One Piece Knowledge King Deciding Battle is an annual examination event hosted by Shueisha and Eiichiro Oda where fans can test their knowledge of the One Piece manga.[1][2]
Information
The online exam consists of 100 questions from four genres: story, character, techniques, and culture. The exam is one hour long, and participants who score 90 points or more in the 100 regular questions will be given 50 additional, more difficult questions that must be answered in 30 seconds each and will stop once participants answer three incorrectly.[1]
Questions will draw from One Piece Volumes and Vivre Card - One Piece Visual Dictionary. There are four types of questions:
One answer per question: a question where participants select one answer from four options
Multiple answer questions: a question where participants choose more than one correct answer from four options
Sorting: a question where participants put four items in the correct order in a list
Free answer: a question where participants are asked to write out an answer
After taking the exam, fans will receive a report card that analyzes their exam results.[2]
2019
The pre-registration phase of the 1st Knowledge King Deciding Battle ran from August 2, 2019 to October 5, 2020. The Deciding Battle exam took place on October 6 at 13:00.
Questions drew from Volumes 1 to 94.[1]
The winner of the first Knowledge King Deciding Battle was Ryota. The exam is now referred to as Knowledge King Ryota (ナレッジキングリョウタ, Narejjikingu Ryouta?) after its winner.
In 2019 the prize for winning One Piece Knowledge King was a golden statue of Luffy. Ryota asked Eiichiro Oda to draw a signed, colored, drawing of Charlotte Katakuri.
Ryota, the first Knowledge King.
The Golden Luffy Trophy.
Ryota's requested Charlotte Katakuri drawing.
The 1st Knowledge King Deciding Battle has been made available for anyone to take on the official website.[2]
2020
The pre-registration phase of the 2nd Knowledge King Deciding Battle ran from July 20, 2020 to October 24, 2020. The Deciding Battle exam took place on October 25 at 19:00.
Questions drew from Volumes 1 to 97.
The winner received a trophy, but its design differed from the 2019 statue. The top ten participants, as well as the top eleven participants from the first competition, would be invited to Jump Festa 2021 to participate in the Final Stage Summit War (ファイナルステージ頂上戦争, Fainarusutēji chōjō sensō?) to decide the official Knowledge King (ナレッジキング, Narejjikingu?).
Participants under the junior high school level were separated into their own ranking, and the top ten among them will each receive a prize.[2]
Because Jump Festa 2021 was converted into a virtual event, the 2nd ONE PIECE Knowledge King Final Battle: Competition Edition (第2回ONE PIECE ナレッジキング決定戦・完全版, Dai 2-kai wanpīsu narejjikingu kettei-sen kanzenhan?) was broadcasted in two parts on YouTube on January 25 and February 1, 2021. The finals took place in a studio instead of taking place at a live event. The competition was hosted by MC and comedian Hidetsugu Shibata, his assistant Suzuki Yuri, and One Piece's current editor Takano. All three wore face shield due to the coronavirus pandemic. Last year's winner, Ryota, appeared with a red One Piece flag with Luffy one it before the start of the competition.
For the competition, competitors were broken up into groups of four or five, either A Block, B Block, or C Block, and each sat at podium where they would have to write their answers on small whiteboards. The winner from each Block continued to the finals.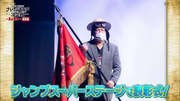 A Block featured Nosuke Yoseii, Ryuichi, Koya-Ta.D.Ace, and Jinbe. B Block featured Poneglyph ARIMO, Orgis, Kiri, and Doratsuri. C Block featured Izuna, Ryota, Shohei, Yama-san, and Toy. Nosuke Yoseii, Kiri, and Yama-san won their respective Blocks and advanced to the finals. Kiri defeated the other two finalists and was crowned the new Knowledge King. He was given the One Piece flag during the Jump Super Stage event of Jump Festa 2021 Online, where the junior high school level finals took place.[3]
References
External Links