Here is the place for the communication of the wiki team for Images, the Flash Monkeys. The discussion and question sections will be archived with the completion of each project.
Discussion
This is for discussion about project issues, who does what, etc...
Hey can you guys fix something I just realized? You know how the New Fishman Pirates all have portraits of their aged appearances? Well, as far as the New Fishman Pirates page is concerned, they need to have their young appearance. By the time that they all aged, the NFP had already been disbanded, so the aged appearance doesn't represent them as pirates. We could probably go about changing their infoboxes back to a more recognizable appearance too. Talk to me in chat later if you have questions, I just didn't want to forget about it. JustSomeDude...  Talk | 05:07, April 6, 2015 (UTC)
Questions
This is for questions that users may have as they complete team work.
Non-member Section
You don't have to be a member of the team to help us! If you encounter an image so bad and disgusting that it makes you want to go blind, you can tell us here. Or if you know of an image that doesn't exist (for article purposes only) but should, you can let us know here as well. Any other problems that our team should deal with can be posted here as well.
Hello, I want to know if I can upload a GIF of Brook using Nemuriuta Flanc to put some Flying Fish Riders to sleep (Episode 388) for the Soul Solid page. DekkenMinus (talk) 18:32, April 28, 2015 (UTC)
Yeah, just make sure to follow the animation guidelines. Awaikage Talk 20:18, April 29, 2015 (UTC)
Image Request
Raws
Animation Request
Rules to remember
Current gif rules still apply, no subtitles or signatures are to be present in the gifs and no more than three on a page.
Animations will only be made in the situation when neither the anime nor manga are able to fully illustrate the technique or power, or an animated image is beneficial and can supplement the written description.
All GIFs must be approved by members of the Image Team.
Completed Animation Requests
Denied Animations
I think that we should have a an example of each eyecatcher in each of the three sets. I think we need to have Luffy's eyecatcher be an example for the eyecatchers in each of the three sets, or at least have a Gif showing Luffy's first eyecatcher as an example. If you can make that Gif, I think it will really help the page. --Strawhat1 (talk) 15:33, February 9, 2013 (UTC)
Denied. There would be too many gifs on the Eyecatcher page. JustSomeDude...  Talk | 16:06, June 25, 2013 (UTC)
Characters without any appeareance
Hello, I was wondering how we can deal with the infoboxes of people who are only mentioned, like Eric Dow or Kozuki Oden. With the new system of switch/image, the infoboxes try to show the missing infoboxes pictures (which don't exist). I couldn't find an option in the image section of the infobox for that, does it exist? Or can we let it like it is now?--Loiciol (talk) 14:20, April 15, 2016 (UTC)
Cook Infobox
I believe that since the infoboxes of the other pirate occupations have at least one of the Strawhats in them (Captain has Luffy, Swordsman has Zoro, Navigator has Nami, Sniper has Usopp, Doctor has Chopper, Archaeologist has Robin, Shipwright has Franky, Musician has Brook and Helmsman has Jinbe), I believe that the Cook page should have Sanji in it. I recommend the photo with both Sanji and his instructor, Zeff.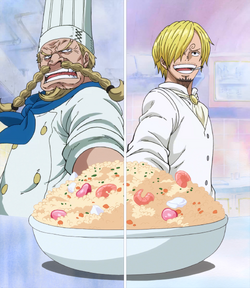 Mugiwara1994 (talk) 23:19, 19 May 2021 (UTC)
I don't know this should be discussed here but the series is more than just the Straw Hats and, if possible, images of unaffiliated occupants would make the pages more neutral. Rgilbert27 (talk) 00:23, 20 May 2021 (UTC)
When considering potential infobox images, it is more important to get the best and most informative image rather than to follow an arbitrary theme. Your proposed image only shows Sanji and Zeff serving food whereas the current infobox image actually shows people in the process of cooking.
Also, Combatant is Zoro's official position and its infobox image does not include him. Kaido King of the Beasts (talk) 01:04, 20 May 2021 (UTC)