One Piece is released in Italy by Star Comics since 2001. The serialization is generally behind the original one by three volumes and as of October 2016 it reached volume 80. The five specials Red, Blue, Yellow, Green and Blue Deep have also been released.[1] So has been released Wanted! and the first two color walks. Star Comics, since 2008, started a reprinting edition called "One Piece New Edition" which reached Volume 71, the new edition keeps the original logo, add extra content like Oda's sketches as well correcting major translation mistakes.
The original title is deliberately in Latin and upper-case characters, but outside Japan the most common title chosen is "One Piece", Star Comics follows this choice as well.
Latest released volume of One Piece.
Latest released volume of One Piece New Edition.
Italy is one of the first nations (like China for example) to have broadcast One Piece on a TV Channel outside Japan. The first 53 episodes are titled "All'arrembaggio! (stand by to board!)", from 54th to 195th "Tutti all'arrembaggio!", from 196th to 309th "One Piece - Tutti all'arrembaggio!" and from 310th onward "One Piece". It is broadcast since 2001 on Mediaset's Italia1 channel. The episodes are imported directly from Japan and dubbed by Merak Film.[2]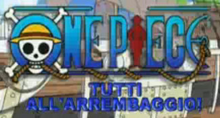 Even if the quality of the voice actors is generally good, they often say wrong statements because of translation mistakes from the original dialogues. Especially in the earlier episodes, some names were changed to make them easier for children and the dialogues were changed to made them "softer" and some scene were turned sepia-tone or black and white in order to "mask" the blood. The episodes aired on Italia 1 are edited because the channel may be penalized if they contain something that can scare a child and when it is not cut, blood's color is changed to brown, black or light red.
The first 195 episodes have been aired from 2001 to 2005, then it was transmitted no more until July 2008, when Italia 1 decided to broadcast new episodes in the summer, which they had been dubbed two years before. But it had such a success that they did not stop it and dubbed new episodes.
After the ending of the Impel Down Arc with episode 452 on December 2010, One Piece stopped being aired until May 2012, when the anime continued from episode 453 on Mediaset Italia 2 channel with a pace of an episode per day until it reached episode 508 on July 4, after then One Piece anime re-started with episode 1. The special crossover episodes 492 and 542 were skipped.
From episode 207 onward the Japanese original anime is broadcast in 16:9 while Mediaset used the 4:3 format until episode 505, resulting in a partial image cut.
An example of an image edited.
An example of an image not transmitted.
Italia 1 used the 4:3 format until episode 505.
The original frame format.
Currently the anime has reached, and completed, the Z's Ambition Arc, being the dub closest to the Japanese version second only to the Taiwan dub that is usually only 20 episodes behind the original. The episodes have restarted from 509 on April 7, 2014 to 563 on June 2, with an episode per day on Mediaset Italia 2. There's no video censorship in this airing of the series. 
All the movies have been dubbed.
The 8th movie was aired on Christmas Day of 2013.
The 9th was broadcast since June 3, 2014 divided in six parts until June 8.
Instead, the 10th was broadcast since June 9 to June 11, 2014 divided in parts, too.
The 12th was broadcasted in prime time on 5 January 2015.
The 13th was distribuited in the cinemas from 24th november 2016.
The 11th was released along with the other movies on December 15, 2017 on a DVD and Blu-ray Disc box set.
N°
Italian Movies Titles
1
One Piece: Per tutto l'oro del mondo 

(One Piece: For all the gold of the world)

2
One Piece: Avventura all'Isola Spirale 

(One Piece: Adventure to the Spiral Island)

3
One Piece: Il tesoro del re 

(One Piece: The King's Treasure)

4
One Piece: Trappola mortale 

(One Piece: Deathly Trap)

5
One Piece: La spada delle sette stelle 

(One Piece: The 'Seven Stars' Sword)

6
One Piece: L'isola segreta del barone Omatsuri 

(One Piece: The secret island of Baron Omatsuri)

7
One Piece: I misteri dell'isola meccanica 

(One Piece: The mysteries of the Mechanical Island)

8

One Piece: Un'amicizia oltre i confini del mare

(One Piece: A beyond seas' boundaries friendship)

9
One Piece: Il miracolo dei ciliegi in fiore 

(One Piece: The miracle of the blooming cherry-trees)

10
One Piece: Avventura sulle Isole Volanti 

(One Piece: Adventure on the Flying Islands)

11
One Piece 3D: L'inseguimento di Cappello di Paglia

(One Piece 3D: Straw Hat's Chase)

12
One Piece Film: Z
13

One Piece Gold: Il film

(One Piece Gold: The movie)
The first four special episodes have been aired in Italy from June 12 to June 15, 2014 on Mediaset Italia 2 tv-channel. Each special episode is divided in two parts broadcasted one after the other the same day.
N°
Japanese Title 
Italian Title

Original airdate (Japan)

Original airdate (Italy)

SP1

One Piece TV Special: Adventure in the Ocean's Navel

One Piece: Avventura nell'ombelico dell'oceano (One Piece: Adventure in the Ocean's Navel)

 

December 20, 2000
June 12, 2014

SP2

One Piece: Open Upon the Great Sea! A Father's Huge, HUGE Dream!

One Piece: Un tesoro grande un sogno (A treasure which is big like a dream)
April 6, 2003
June 13, 2014

SP3

One Piece: Protect! The Last Great Stage

One Piece: L'ultima esibizione (The last performance)

 

December 14, 2003
June 14, 2014

SP4

One Piece: End-of-Year Special Plan! Chief Straw Hat Luffy's Detective Story

One Piece: Le avventure del detective Cappello di Paglia (The Adventures of the Straw Hat Detective)
December 18, 2005
June 15, 2014
When the Water Seven arc was broadcast, One Piece often reached up to two million viewers and more than 13% of Italian viewers.[3]
The dub features all new opening music performed by popular Italian singers, just like most of the other anime that is dubbed in Italian. The visuals change with each season by show clips from the japanese openings and actual scenes from the show. The credits air at the end of each episode, which has exactly the same visuals as the opening.
From the episode 509 forward are used the original Japanese theme songs as opening and ending (with the Italian credits). From the episode 517 only, 15th opening introduction is dubbed in Italian.
Brook's favorite song, Binks' Sake, was translated in Italian. It is named "Il liquore di Binks" (The liqueur of Binks). Here the song performed by the Italian dub.
Characters, places and other name changes
[
edit
|
edit source
]
Name
Manga
Anime
Monkey D. Luffy
Monkey D. Rufy
Rubber (ep. 1-399); from Episode 401, to adapt it to the original name, it was stated several times that "Rubber" is his nickname while Monkey D. Luffy is his name, so friends usually call him "Rubber" while marines often announced him as "Monkey D. Luffy alias Rubber". There was an attempt to call him "Monkey D. Rubber" in Episode 400 but it was immediately discarded.
Shanks
Shanks

Shank (pronounced "Shenk")

Shanks (pronounced "Shenks" from Marineford saga)

Devil Fruits
Frutti del diavolo (Devil fruits); the names are adapted almost like in the anime (see the table below)
Frutti del mare (Sea's fruits); also most names are adapted into Italian for example Goro Goro no Mi is called Rombo Rombo (see the table below)
Paramecia
Paramisha
Logia
Rogia
Rogia (pronounced "Roja")
Zoan
Zoo Zoo
Koby
Kobi
Helmeppo
Hermeppo
Helmeppo
Buggy
Bagy
Buggy
Boodle
Barboncino
Usopp
Usop
Usopp (pronounced "Asopp")
Ninjin
Carota (Carrot)
Ninjin
Tamanegi
Cipolla (Onion)
Tamanegi (pronounced "Tamaneji")
Piiman
Peperone (Pepper)
Piiman
Grand Line
Rotta Maggiore (Major Route)
Grande Blu (Great Blue)
Calm Belt
Fascia di Bonaccia (Calm Belt)
All Blue
All Blue
Cuore dei Mari (Heart of the seas)
Don Krieg
Creek
Don Krieg (pronunced "Kraig")
Patty
Paty
Patty
Nezumi
Nezumi
Rat
Hatchan
Hacchan
Octy
Kuroobi
Kuroobi
Blackbelt
Belly
Berry

Danari (Money, Berry is sometimes used from ep. 313+)

Loguetown
Rogue Town
Logue Town
The names of some Baroque Works female agents (Miss Wednesday, Miss All Sunday, Miss Monday, Miss Valentine, Miss Thursday and Miss Friday) have been translated in Italian (Miss Mercoledì, Miss Domenica, Miss Lunedì, Miss Valentina, Miss Giovedì e Miss Venerdì) in the anime and left unchanged in the manga.
Den Den Mushi
Lumacofono

Lumacofono (ep. 1-195)

RadioSnail (ep. 196+)

Tony Tony Chopper
TonyTony Chopper
Renny Renny Chopper ("renna" is the Italian word for "reindeer")
Rumble Ball
Rumble Ball

Rumble Ball (ep. 88-287)

Sfere rombanti (rumble balls) (ep. 288+)

Kureha
Kureha
Koreka
Dalton
Dorton
Dolton
Hiriluk
Hillk
Hiruruku
Chess
Chess
Scacco (chess piece)
Kuromarimo
Cromarlimo
Kuromarino
Masira
Mashira
Masira
Shoujou
Orangutan
Gan Fall
Gan Forr
Gan Foll
God Enel
Dio Ener (God Eneru)
Supremo Eneru (Mighty/Supreme Eneru)
Van Augur
Van Ooger
Van Auger (pron. Van Augher)
Iceburg
Iceburg
Iceberg
CP9
CP9 (Cee Pee Nine)

CP9 (pronounced in Italian: Ci Pi Nove)

CP9 (pronounced in English) (ep.555)

Galley-La Company
Galley-La Company
Galley Company
Zambai
Zanbai
Zambei
Wanze
Wanze
Vanze
Most Rokushiki techinques retain their original name, the only one changed is Rankyaku which is called "Storm Leg" (which is the literal translation in English from Japanese).
Monkey D. Garp; Monkey D. Dragon
Monkey D. Garp; Monkey D. Dragon
Garp; Dragon. Since they were presented as grandfather and father of Luffy, after the adaptation of Episode 401 they should share the same surname now
Portgas D. Ace
Portuguese D. Ace
Ace (ep.93-409); Portuguese D. Ace (ep.410+)
Four Emperors
I quattro imperatori (The Four Emperors)
I quattro imperatori (The Four Emperors)
Shichibukai
La Flotta dei Sette (The Fleet of Seven)
La Flotta dei Sette (The Fleet of Seven)
Oars
Odr
Ozu
Bartholomew Kuma
Orso Bartholomew ("orso" means "bear")
Donquixote Doflamingo
Donquijote Do Flamingo
Boa Hancock
Boa Hancock
Boa Hancock (pron. Boa Hencock)
Sabaody Archipelago
Arcipelago Sabaody
Arcipelago Sabaody (Sabaody is pronounced in Italian)
Shiki
Shiki
"Kinjishi" alias "il leone d'oro", Kinjishi in Japanese and leone d'oro in Italian have the same meaning of Golden Lion.
Okamas
Gay
The okamas and newkamas are called "i trasformati" (the transformed) and the New Kama Land is simply referred to as "paradiso" (heaven) or "giardino delle libertà" (garden of freedom). The okamas are never explicitly called gays.
Newkamas
Trans-formati (from transessuali: "transsexual people", and trasformati: "transformed")
Okama Kenpo
Okama Kenpo and Okama-way are called Gay-way
Kung Fu dei trans-formati (Trasformed's Kung Fu)
Jinbe
Jinbe
Jimbei (titles) or Jinbei (credits)
Heracles
Hercules
Heracles
Jozu
Jaws
Jozu
The slash (\) means the name of a devil fruit was never pronounced in the anime.
Fruit
Name in the manga
Name in the anime
Gomu Gomu no Mi
Gom Gom (from gomma: gum)
Frutto di Gum Gum (Gum Gum Fruit; during East Blue Saga)

Gum Gum (later)

Bara Bara no Mi
Puzzle Puzzle (from puzzle: jigsaw puzzle)
Frutto di Taglia-Incolla (Cut-Paste Fruit; first episodes)

Puzzle Puzzle (ep. 423+)

Goe Goe no Mi
-
Goe Goe
Sube Sube no Mi
Swish Swish
\
Moku Moku no Mi
Fum Fum (from fumo: smoke)
Frutto del Fumo (Smoke Fruit)
Hiso Hiso no Mi
-
Frutto dei Sussurri (Whispers Fruit)
Kama Kama no Mi
-
\
Toro Toro no Mi
-
Melt Melt
Kachi Kachi no Mi
-
Metal Metal
Bomu Bomu no Mi
Bom Bom (sound of an explosion)
Frutto della Polvere da Sparo (Gun Powder Fruit)
Kiro Kiro no Mi
Kilo Kilo
Doru Doru no Mi
Dela Dela (from candela: candle)
Baku Baku no Mi
Gnam Gnam (sound of someone who's eating)
Ushi Ushi no Mi, Model: Bison
Cow Cow Modello Bison
\
Hito Hito no Mi
Homo Homo (from homo: human in Latin)
Mane Mane no Mi
Mimo Mimo (from mimo: mime)
Mera Mera no Mi
Foco Foco (from foco: fire)
Tori Tori no Mi, Model: Falcon
Avis Avis Modello Falcon (from avis: bird in Latin)
Hana Hana no Mi
Fior Fior (from fiore: flower)
Suna Suna no Mi
Sand Sand
\
Mogu Mogu no Mi
Mole Mole
Inu Inu no Mi, Model: Dachshund
Dog Dog Modello Bassotto (from bassotto: dachshund)
Supa Supa no Mi
Lama Lama (from lama: blade)
Toge Toge no Mi
Ago Ago (from ago: needle)
Inu Inu no Mi, Model: Jackal
Dog Dog Modello Sciacallo (from sciacallo: jackal)
Ori Ori no Mi
Lazo Lazo
\
Ame Ame no Mi
-
Ame Ame
Bane Bane no Mi
Coil Coil
Spring Spring
Uma Uma no Mi
Ippo Ippo (from híppos: horse in Ancient Greek)
\
Goro Goro no Mi
Rombo Rombo (sound of a flash)
Rombo Rombo (ep. 175)

Goro Goro (ep. 180)

Noro Noro no Mi
Noro Noro
Hie Hie no Mi
Gelo Gelo (from gelo: cold)
\
Doa Doa no Mi
Door Door
Porta Porta (from porta: door)
Neko Neko no Mi, Model: Leopard
Felis Felis Modello Leopardo (from felis: cat in Latin and leopardo: leopard)
Zo Zo no Mi
Ele Ele (from elefante: elephant)
Inu Inu no Mi, Model: Wolf
Dog Dog Modello Lupo (from lupo: wolf)
Ushi Ushi no Mi, Model: Giraffe
Cow Cow Modello Giraffa (from giraffe: giraffa)
Awa Awa no Mi
Bubble Bubble
Beri Beri no Mi
Berry Berry
Sabi Sabi no Mi
Muffa Muffa (from muffa: mould)
Sabi Sabi
Shari Shari no Mi
Whell Whell
-
Yami Yami no Mi
Dark Dark
Atsu Atsu no Mi
-
Caldo Caldo (from caldo: hot)
Yomi Yomi no Mi
Yomi Yomi
Noko Noko no Mi
-
Noko Noko
Kage Kage no Mi
Shadow Shadow
Ombra Ombra (from ombra: shadow)
Horo Horo no Mi
Horo Horo
Suke Suke no Mi
Suke Suke
Nikyu Nikyu no Mi
Pad Pad
Pika Pika no Mi
Pika Pika
Mero Mero no Mi
Mero Mero
Hebi Hebi no Mi, Model: King Cobra
Serpe Serpe Modello Cobra Reale (from serpe: snake and cobra reale: king cobra)
Serpe Serpe
Hebi Hebi no Mi, Model: Anaconda
Serpe Serpe Modello Anaconda (from serpe: snake)
Serpe Serpe
Doku Doku no Mi
Doku Doku
Ami Ami no Mi
-
Ami Ami
Fuwa Fuwa no Mi
-
Fuwa Fuwa
Horu Horu no Mi
Horu Horu
Choki Choki no Mi
Zak Zak
Gura Gura no Mi
Gura Gura
Woshu Woshu no Mi
Wash Wash
\
Hito Hito no Mi, Model: Daibutsu
Homo Homo Modello Buddha
\
Magu Magu no Mi
Magma Magma
\
Tori Tori no Mi, Model: Eagle
-
Avis Avis Modello Aquila
Numa Numa no Mi
Numa Numa
Mato Mato no Mi
Centro Centro (from centro: center)
Mini Mini no Mi
-
Mini Mini
Mosa Mosa no Mi
-
Mosa Mosa
Modo Modo no Mi
-
Modo Modo
Ope Ope no Mi
Ope Ope
-
Gasu Gasu no Mi
Gas Gas
-
Sara Sara no Mi, Model: Axolotl
Sala Sala Modello Axolotl
-
Yuki Yuki no Mi
Neve Neve (from neve: snow)
-
Buki Buki no Mi
Arma Arma (from arma: weapon)
-
Guru Guru no Mi
Gira Gira (from girare: to spin)
-
Bari Bari no Mi
Barri Barri (from barriera: barrier)
-
Nui Nui no Mi
Cuci Cuci (from cucire: to sew)
-
Giro Giro no Mi
Fix Fix
-
Jake Jake no Mi
Giacca Giacca (from giacca: jacket)
-
Mushi Mushi no Mi, Model: Kabutomushi
Bug Bug Modello Scarabeo (from scarabeo: beetle)
-
Mushi Mushi no Mi, Model: Suzumebachi
Bug Bug Modello Vespa (from vespa: wasp)
-
Ato Ato no Mi
Arte Arte (from arte: art)
-
Ito Ito no Mi
Filo Filo (from filo: string)
-
Hobi Hobi no Mi
Hobby Hobby
-
Sui Sui no Mi
Swim Swim
-
Hira Hira no Mi
Flap Flap
-
Ishi Ishi no Mi
Pietra Pietra (from pietra: stone)
-
Beta Beta no Mi
Colla Colla (from colla: glue)
-
Pamu Pamu no Mi
Bang Bang
-
Nagi Nagi no Mi
Taci Taci (from tacere: to be quiet)
-
Chiyu Chiyu no Mi
Cura Cura (from cura: therapy)
-
Ton Ton no Mi
Ton Ton
-
Nuke Nuke no Mi
-
Fase Fase
Raki Raki no Mi
-
Lucky Lucky
Goru Goru no Mi
-
Gold Gold
Shiro Shiro no Mi
Rocca Rocca
-
Kame Kame no Mi
Tarta Tarta (from tartaruga: turtle)
-
Pero Pero no Mi
Slurp Slurp
-
Mira Mira no Mi
Mirror Mirror
-
Soru Soru no Mi
Soul Soul
-
Bisu Bisu no Mi
Bisco Bisco (from biscotto: biscuit)
-
Memo Memo no Mi
Memo Memo
-
Tama Tama no Mi
Ovo Ovo (from uovo: egg)
-
Mochi Mochi no Mi
Mochi Mochi
-
Hoya Hoya no Mi
Puff Puff
-
Netsu Netsu no Mi
Scotta Scotta (from scottare: to be hot)
-
Kuku Kuku no Mi
Cook Cook
-
Shibo Shibo no Mi
Strizza Strizza (from strizzare: to squeeze)
-
Kobu Kobu no Mi
Sprona Sprona (from spronare: to spur)
-
Buku Buku no Mi
Book Book
-
Kuri Kuri no Mi
Crema Crema (from crema: cream)
-
Wara Wara no Mi
Paglia Paglia (from paglia: straw)
-
Bata Bata no Mi
Butter Butter
-
Oshi Oshi no Mi
Spingi Spingi (from spingere: to push)
-
Toki Toki no Mi
Tempo Tempo (from tempo: time)
-
Fuku Fuku no Mi
Veste Veste (from veste: cloth)
-
Wikis
Official Sites
Others
A website about the cuts in the Italian anime.
A website about the Italian voice actors for the Italian dub of One Piece.
Community content is available under
CC-BY-SA
unless otherwise noted.