The Phoenix Pirates is a pirate crew, who appeared in the filler Ice Hunter Arc.[1]
Jolly Roger
The crew's Jolly Roger has purple wings, claws, and a fire emblem behind it, signifying the crew's namesake, a phoenix. The skull and crossbones are unchanged from a standard Jolly Roger.

Crew Members
See also the associated category: Phoenix Pirates.
[Click here to see the legend of the symbols used][Hide the legend]
 †: the character is deceased.
 ?: the character's status is unknown.
 ≠: the character is non-canon.
 ‡: the character is no longer part of this group. Hovering the symbol may give further details.
 *: other relevant information. Hovering the symbol gives further details.
Crew Strength
The Phoenix Pirates were strong enough to be able to sail through the first half of the Grand Line but their journey ultimately came to a stop when they went to the New World and the first mate of the crew, Vigaro, was killed, forcing the crew to retreat back to Paradise.
Ship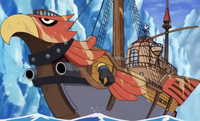 The ship has a red phoenix for a figurehead. Due to the ship's initial sail less appearance, Franky thought that the pirates were probably victims of a Davy Back Fight.[1] Its sail and the Phoenix Pirates' Jolly Roger were actually taken by Brindo.
History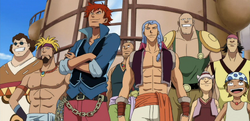 They were former pirates, who were deprived of their flag by the Accino Family and were forced by them to become their soldiers. While in the New World, they were defeated by a powerful adversary and the Phoenix Pirates Vice-Captain Vigaro died to protect his crew. With the help of the Straw Hat Pirates, they got their flag back and continued sailing.

References
Non-Canon Allies

One-Shots

:
Silk  •  Ann and Balloon  •  Dragon Team  •  Toriko and his allies

Specials

:
Medaka, Herring, and Skid  •  Meroie and Hamu  •  Maccus, Bonney, Amanda, Milia, and Holy  •  Randolph Theater members  •  Toriko and his allies  •  Dragon Team  •  Diego and Regis  •  Foxy Pirates  •  Kinoconda  •  Myskina Olga, Myskina Acier, Elizabeth, and Chavez

Movies

:
Ganzo and Tobio  •  Akisu and Borodo  •  Mobambi and Karasuke  •  Adelle and Shuraiya Bascùd  •  Maya  •  Izaya  •  Lacos  •  Brief  •  Tearoom Pirates  •  Roba and Gonzo  •  Billy  •  Schneider and Buzz  •  Kuzan  •  Mobston and Gari  •  Z  •  Carina  •  Raise Max  •  Rikka  •  Worst Generation's Super Rookies  •  Smoker  •  Buggy  •  Boa Hancock  •  Sabo  •  Crocodile

Filler Arcs

:
Apis and Ryu  •  Tajio  •  Kodama  •  Zenny Pirates  •  Pumpkin Pirates  •  Mekao and Kobato  •  Foxy, Porche, and Hamburg  •  Phoenix Pirates  •  Sayo, Lina, and Nukky  •  Yoko and Boss  •  Little East Blue residents  •  Panz Fry and Lily Enstomach  •  Sea Animal Pirates  •  Desire

Games

:
Gejitsu Pirates  •  Atoli and Dias  •  Laotour Bandits and Otsu  •  Popora  •  Gaburi  •  Pato  •  Yadoya  •  Jeanne  •  John

Events

:
Dragon Team and Astro Boy and his team  •  Dragon Team and Kankichi Ryotsu  •  Hakuto  •  Toratsugu  •  Igaram Jr.  •  Ann  •  Lance and Taylor