Pokke is a Marine who serves under the command of Vice Admiral Wilder. He was created for One Piece Premier Show 2016.
Appearance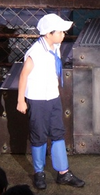 Pokke is a tan-skinned child who wears a blue jumper that has an orange collar, middle stripe, and leg cuffs that have a red zigzag pattern on them. He also wears black shoes and a yellow vest with fluffy shoulders and orange edging. He carries a brown satchel.
When on duty, Pokke wears a standard Marine uniform.
Personality
Pokke is a kind child, as he cared for and befriended Luffy, despite the fact that he is a pirate. This also shows that Pokke believes in following moral justice.
Relationships
Wilder
Pokke serves as Wilder's subordinate, and Wilder uses Pokke's Devil Fruit abilities to keep control on their island. When Wilder tried to use Pokke to capture the Straw Hat Pirates, who Pokke had befriended, the young Marine realized his superior's plans and pleaded for him to spare the pirates. After Wilder denied his request and dismissed him, Pokke chose to help the pirates fight against him.
Monkey D. Luffy
Pokke befriended Luffy and was willing to defy Wilder to protect him. Luffy also wanted to help Pokke, as he was being manipulated by Wilder.
Abilities and Powers
Pokke's physical abilities are unknown, but he is likely not strong as he is a child.
Devil Fruit
Further information: Mono Mono no Mi
Pokke ate the Mono Mono no Mi, a Paramecia-class Devil Fruit that allows him to create clones of people and things.[1] Not much else is known about the ability.
History
One Piece Premier Show 2016
One day, Pokke found Luffy unconscious and separated from his crew. Pokke woke him up and gave him a rice ball, much to the hungry pirate's pleasure. They became friends, but Pokke's superior tried to use him and his Devil Fruit abilities to capture them. Pokke tried to confront Wilder alone, but Wilder denied his request and had him taken away by his fellow soldiers. Pokke went to Luffy, and the pirate helped Pokke to face Wilder.
References
↑

One Piece Premier Show 10th History Book
Community content is available under
CC-BY-SA
unless otherwise noted.