Jurassic World: Dominion Dominates Fandom Wikis - The Loop
Play Sound
Randolph Theater is a theater troupe that debuted in Episode Special 3. The troupe was owned by Randolph before his retirement.[1]
Members
[Click here to see the legend of the symbols used][Hide the legend]
 †: the character is deceased.
 ?: the character's status is unknown.
 ≠: the character is non-canon.
 ‡: the character is no longer part of this group. Hovering the symbol may give further details.
 *: other relevant information. Hovering the symbol gives further details.
History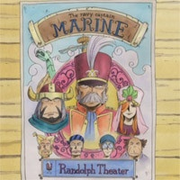 Randolph's troupe were about to have their final performance as Randolph was going to reitre. However, three of the troupe's actors, including Lola decided to leave right before the final performance. With the loss of three actors, Luffy and his crew become actors to help the play go on.[1]
However, during the intermission, the Marines led by Governor fire a cannonball at the ship and soon arrest Randolph. Lola, who resented the Randolph Theater for its marginal profits, planted weapons in the troupe's ship, and gave a false testimony that she and her fellow actors were forced by Randolph to smuggle illegal weapons or risk losing their jobs. The Straw Hat Pirates assist in letting the play go on by fighting off the Marines. In the end the play is completed with Randolph acknowledging the pirates, with him even changing the ending as a newfound respect for the Straw Hat Pirates.[1]

References
Non-Canon Allies

One-Shots

:
Silk  •  Ann and Balloon  •  Dragon Team  •  Toriko and his allies

Specials

:
Medaka, Herring, and Skid  •  Meroie and Hamu  •  Maccus, Bonney, Amanda, Milia, and Holy  •  Randolph Theater members  •  Toriko and his allies  •  Dragon Team  •  Diego and Regis  •  Foxy Pirates  •  Kinoconda  •  Myskina Olga, Myskina Acier, Elizabeth, and Chavez

Movies

:
Ganzo and Tobio  •  Akisu and Borodo  •  Mobambi and Karasuke  •  Adelle and Shuraiya Bascùd  •  Maya  •  Izaya  •  Lacos  •  Brief  •  Tearoom Pirates  •  Roba and Gonzo  •  Billy  •  Schneider and Buzz  •  Kuzan  •  Mobston and Gari  •  Z  •  Carina  •  Raise Max  •  Rikka  •  Worst Generation's Super Rookies  •  Smoker  •  Buggy  •  Boa Hancock  •  Sabo  •  Crocodile

Filler Arcs

:
Apis and Ryu  •  Tajio  •  Kodama  •  Zenny Pirates  •  Pumpkin Pirates  •  Mekao and Kobato  •  Foxy, Porche, and Hamburg  •  Phoenix Pirates  •  Sayo, Lina, and Nukky  •  Yoko and Boss  •  Little East Blue residents  •  Panz Fry and Lily Enstomach  •  Sea Animal Pirates  •  Desire

Games

:
Gejitsu Pirates  •  Atoli and Dias  •  Laotour Bandits and Otsu  •  Popora  •  Gaburi  •  Pato  •  Yadoya  •  Jeanne  •  John

Events

:
Dragon Team and Astro Boy and his team  •  Dragon Team and Kankichi Ryotsu  •  Hakuto  •  Toratsugu  •  Igaram Jr.  •  Ann  •  Lance and Taylor