Red Hair of Class 3-Sea is the 7th story in the Straw Hat Theater series and the first to be drawn in super deformed chibi style. It was originally published in One Piece 10th Treasures on July 27, 2007.
Premise
Eiichiro Oda says that his editor brought him three blank sheets of paper again, telling him to draw another Straw Hat Theater story. Oda tried to run away but was caught, which he blames on his lack of exercise. Apparently, Oda's editor had held a poll to find out which character fans wanted to appear in Straw Hat Theater. The main star of the story is Shanks, who claimed the number 1 spot in the poll.
Summary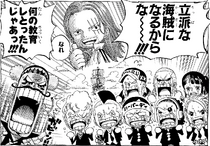 At Straw Hat High School, a group of problem students are causing so much trouble that the school board decided to put all the problems students into one class. Afterwards they brought in a top tutor to teach them, he begins a lesson, when the students refuse to behave he knocks them around. At the end of the short, the Principal informs the students that their tutor has left and will not be coming back. The students then all shock the Principal by declaring they'll be tough pirates some day.

Characters
Named
Unnamed
Cameos
Trivia
"Class 3-Sea" is a pun on "Class 3-C", the common alphabetical way of denoting different classes in the same year.
Most of the names are parodies of various highschool (dorama) animes.

Namie is based on the famous Japanese female singer, Namie Amuro. The character's appearance is based around the singer's own appearance, who is renowned for wearing short skirts and long boots. Coincidentally, Namie Amuro would later sing for the anime's 14th opening, Fight Together.

This comic is a parody for Japanese drama Gokusen in which the main character who is a teacher have to teach the problem students in 3-D class, and she always wear a jersey while teaching.
When Red Hair Sensei is knocking out the students, he claims his fists hurt the most. The statement means that the reason why his fists hurt the most is because he (as a teacher) has been forced to hit his students.
The lesson Red Hair Sensei gives the group of students is on how to spell the Jolly Roger (dokuro) in katakana. The students reaction is because this is basic writing skills methods designed for a preschool child.
Sansuke's complaint against Mihawk was because Mihawk was telling him off for something minor (Sansuke's eyebrow) when he should be complaining about the fact that he is smoking heavily on school grounds.
Luffyshirou's bandana reads "Harvady" in Japanese text, the name of the college he working to get into. This is most likely a play on the name "Harvard", a top American college.
During the JUMP Festa 2008, the Mugiwara High School was acted out. Because Kazuki Yao voice roles both Mr. 2 Bon Kurei and Franky, Kazuki Yao played as Mr. 2 Bon Kurei and Franky's role in the short was left out. Shūichi Ikeda, Shanks' voice actor, was absent for the One Piece stage show, so Oda himself went on stage with a chalkboard while wearing a hot pink wig and introduced himself as "Shanks".[1]
Franory hair style matches Franky's new hair style after the two year timeskip.
Zoro's hairstyle is a mohican style. Tora Gari, one of Zoro's most used moves is a pun on a type of mohican haircut and it is likely this is why he was given the style.
External Links
References