Ringo is a region located in the north of Wano Country. The former Daimyo was Shimotsuki Ushimaru of the Shimotsuki Family.
Layout and Locations
Edit
Ringo has a wintry climate[1] and is mostly wastelands.[2]
Northern Cemetery
Edit
The Northern Cemetery (北の墓場, Kita no Hakaba?),[3] which is said to be haunted,[4] is where Ryuma was laid to rest along with Shusui.[5] Because of the cold, it follows Ringo's practice of the Eternal Grave (, Eternal Grave?), bodies can be preserved for hundreds of years with katanas[6] they've carried since birth[7] as grave markers. Some of them were famed meito attracting grave robbers.[6] After the "Komurasaki" incident, this is where Nami, Shinobu, Kanjuro, Brook and Robin regrouped.[1]

Oihagi Bridge
Edit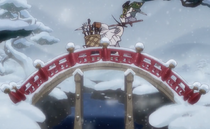 Oihagi Bridge (おいはぎ橋, Oihagi-bashi?) is at the entrance to the Northern Cemetery. It's where Roronoa Zoro clashed with Gyukimaru[8] when they were interrupted by Kamazo's chase of Toko and Kozuki Hiyori until Zoro intervened.[9]

Underground Chamber
Edit
In an abandoned town[10] lies a underground chamber filled with weapons[11] by Kawamatsu and Onimaru.[12]

Port Kaeru
Edit
Port Kaeru (, Port Kaeru?) is Ringo's port and one of six in Wano.[13]
This is an empty section. Please help the wiki by adding information to it.
After his death, Ryuma was laid to rest along with Shusui at the Northern Cemetery.[5] After losing Hiyori,[14] Kawamatsu would make his here to commit seppuku when he came across Onimaru chasing out grave robbers. The two would then form a bond and collect weapons for the Kozuki Family's return under the guise "Gyukimaru" before Kawamatsu's capture.[15]
Yonko Saga
Edit
Wano Country Arc
Edit
After what happened at Orochi Castle, Nami, Shinobu, Kanjuro, Brook and Robin regrouped at the Northern Cemetery.[1] Zoro pursued Gyukimaru to Oihagi Bridge after he stole Shusui. Then he noticed the cache of weapons on his back and decided to steal them for his allies.[8] During the clash, discussing Ryuma's fame and skill, Toko and Kozuki Hiyori were chased by Kamazo until Zoro intervened. Hiyori begged for his help while still fighting Gyukimaru before finally beating Kamazo.[9] After his victory, Zoro passed out from his injures while Gyukimaru fled.[16] At the Northern Cemetery, Zoro was tended by Hiyori who was searching for her brother[17] surprised that she was Momonosuke's little sister and what has happened since Oden Castle burn down.[18] Later, Brook came upon them while sleeping and told them about Tonoyasu's execution leading to a mad dash back to the capital.[19][20] The next day, Zoro and Hiyori went back to Oihagi Bridge where he fought Gyukimaru again. During the clash Kawamatsu intervened[21] and reunited with Hiyori. Just then victims of Gyukimaru thefts, armed with firearms, came for revenge only to be stopped by Zoro and Kawamatsu letting Gyukimaru flee.[22] While Zoro chased Gyukimaru to an abandoned town Kawamatsu told Hiyori what happened after she left and about Ringo's history[23] making their way to Zoro. After finding the underground chamber Kawamatsu made contact with Kin'emon while Hiyori pleaded Zoro to return Shusui in exchange for Enma.[24] Seven days before the battle on Onigashima, Zoro accepted Hiyori's offer and made plans to visit Ryuma's grave.[25] The next day the Katatna Retrieaval Team came to collect the katanas when news of the altered secret message arrived.[26]
References
Edit
Community content is available under
CC-BY-SA
unless otherwise noted.