Jurassic World: Dominion Dominates Fandom Wikis - The Loop
Play Sound
Rankyaku is one of the six techniques of "Rokushiki" that allows one to create air blades.
Overview
The Rankyaku is a powerful projectile technique, in which the users start by kicking at very high speeds and strength, sending out a sharp compressed blades of wind or "Sickle Wind" (鎌風, Kamakaze?) that can slice objects and greatly damage a human body.[2][3] However, it has been shown that almost any length of appendage (such as a tail or neck) at high velocities are also capable of this move.
Out of the CP9 agents, Kaku has the greatest mastery of this technique, which he utilizes alongside two blades in his Four Sword Style. In addition, despite having no formal training or even general knowledge, he was able to create several new variants of Rankyaku while in his Human-Beast Form.
Users
[Click here to see the legend of the symbols used][Hide the legend]
 †: the character is deceased.
 ?: the character's status is unknown.
 ≠: the character is non-canon.
 ‡: the character is no longer part of this group. Hovering the symbol may give further details.
 *: other relevant information. Hovering the symbol gives further details.
Variations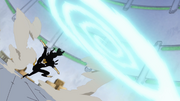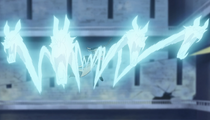 Rankyaku "Lupus Fall" (嵐脚「群狼連星」

Rankyaku "Rupusu Fōru"

?

, literally meaning "Storm Leg: 'Swarm Wolf Binary Star'"): Used by Jabra in his Human-Beast Form. In this powerful attack, Jabra shoots four Rankyaku projectiles, each in the shape of a wolf, straight at the opponent. Because of their unusual shapes, these Rankyaku seem to explode upon contact rather than cutting, much like compressed air bullets rather than air blades. Jabra has honed this technique so he is able to initiate it correspondingly with Geppo.[18] The kanji actually reads as Gunrou Rensei. The kanji for both "wolf" and "star" are in the technique's name, most likely as a nod to the Lupus constellation. In the Viz Manga and FUNimation dub , this is called Tempest Kick Lupus Fall.
Rankyaku "Renge" (

嵐脚「蓮華」

Rankyaku "Renge"

?

, literally meaning "Storm Leg: 'Lotus Blossom'"): Used by Kumadori. In this attack, Rankyaku is performed with both legs instead of one, causing multiple cuts on either side of the opponent. The cuts at first appear small and then "blossom" into larger ones, perhaps explaining the name.[19] In the Viz Manga, this is called Tempest Kick Lotus.
Trivia
References