Jurassic World: Dominion Dominates Fandom Wikis - The Loop
Play Sound
Tekkai is one of the six techniques of "Rokushiki" that allows superhuman defense.
Overview
The Tekkai hardens the users' muscles to the level of iron, in order to nullify damage taken from attacks.[2] However, it can be broken by strong enough forces such as Luffy's various Gears, Zoro's Shishi Sonson and Tatsumaki, Sanji's Diable Jambe, Franky's Strong Hammer, and Chopper's Monster Point.
When Tekkai is active, the user is unable to move, with the exception of Jabra's Tekkai Kenpo.[3] Tekkai can also be used to enhance the user's attacks by the increased density one gets from using Tekkai. Aside from Jabra, it requires the user to utilize Tekkai after they are mobile towards the opponent.
The strength of Tekkai can vary for users with different physical conditions, as a person with a higher level of muscular strength would be able to take stronger forces and enhance attacks with their use of Tekkai. Furthermore, despite the increased physical density that one gains when activating this move, the user's body is still flesh and blood. Thus, its resistance to force has its limits.[4][5] Furthermore, Tekkai cannot harden the body against non-physical attacks, making the user as vulnerable as ever to certain attacks.[6] As such, even masters of Tekkai are far from indestructible; the limit of one's Tekkai to resist damage does, however, improve with mastery.[7][8]
Users
[Click here to see the legend of the symbols used][Hide the legend]
 †: the character is deceased.
 ?: the character's status is unknown.
 ≠: the character is non-canon.
 ‡: the character is no longer part of this group. Hovering the symbol may give further details.
 *: other relevant information. Hovering the symbol gives further details.
Variations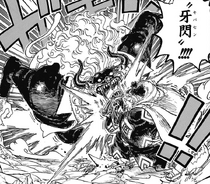 Tekkai "Kibasen" (

鉄塊「牙閃」

Tekkai "Kibasen"

?

, literally meaning "Iron Mass: 'Fang Flash'"): Used by Who's-Who in his Human-Beast Form. While his body is in a state of Tekkai, Who's-Who crouches into a pouncing position, hardens his teeth and then leaps towards the target face-first, attempting to tear them with his fangs. It was first used against Jinbe. While the attack was able to push Jinbe a reasonable distance, the Fish-Man was able to ultimately block and counter it with his Busoshoku Haki and Fish-Man Jujutsu.[19] In the VIZ translation, this attack is called Fang Flash.
Non-Canon Variants
Tekkai "Sansetsu Lariat" (

鉄塊「三節ラリアット」

Tekkai "Sansetsu Rariatto"

?

, literally meaning "Iron Mass: 'Three Section Lariat'"): Used by Shuzo. Shuzo throws his arm back, hardens his body with Tekkai, and finally swings his arm forward. This attack is strong enough to counter one of Sanji's kicks, but its full effects are not shown due to it being deflected. The name of the technique most likely came from the fact that Shuzo's attacking arm has three sections due to it having two elbows instead of one.
Trivia
Tekkai is similar to Busoshoku Haki, as both reinforce the user's body in some way, the difference being that Tekkai is based on the user's physical power while Haki is based on the user's willpower.
Though acknowledged as a Rokushiki master, Kalifa is never seen using Tekkai.
Tekkai appears to be based on the Iron Shirt technique in Chinese martial arts, which utilizes the natural energy (ki) to strengthen the body's resilience.
References