For the weapon, see sword.
SWORD is the Marine Headquarters Secret Special Force (機密特殊部隊, Kimitsu Tokushu Butai?) led by X Drake. Their overall mission and objectives are currently unknown.[2]
Duties
Their operations involve undercover missions to monitor Four Emperors activity. Koby and X Drake were shown contacting each other to discuss urgent developments. SWORD uses code words to verify secure channels.[2]
They are not informed of Cipher Pol's operations and their covert activities.[2]
Members
Strength
Although the current strength of the group is unknown, the accomplishments of its members are notable.
History
Four Emperors Saga
Wano Country Arc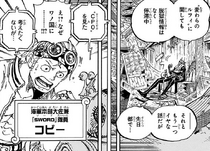 X Drake contacted Koby from Wano Country to debrief him on the progress of an unknown mission. He also updated Koby on Kaido and Big Mom's alliance. Drake revealed that CP-0 was also present in Wano, to which Koby reacted with shock and foreboding.[2]
Trivia
Their name, SWORD, contrasts them with CP-0, whose full name is Cipher Pol Aigis Zero. The word "Aigis" comes from the Aegis, a shield in ancient Greek mythology.
References
Community content is available under
CC-BY-SA
unless otherwise noted.