The Sea Animal Pirates is an anime-only pirate crew founded by a Kung-Fu Dugong from Alabasta.
This is an empty section. Please help the wiki by adding information to it.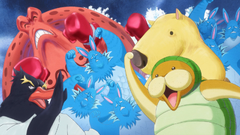 The Sea Animal Pirates are full of and only sea animals, led by a Kung-Fu Dugong trained under Luffy. The crew includes:
The Sea Animal Pirates seem to possess a sufficient amount of strength, as they successfully made it to the New World. The captain also possesses Busoshoku Haki.
After being defeated and inspired by Luffy at Alabasta, the leader of the Kung-Fu Dugongs set sail and formed a crew of only sea animals. When they reached the New World the crew met Breed, who used his power to enslave them.
Following Breed's orders, the kung-fu dugong and his sea lapahns kidnap Caesar Clown from the Straw Hat Pirates, forcing them and Law to chase the animals in order to recover the scientist. Later Luffy and the Dugong have a short fight and then recognize each other. Breed then appears and orders Luffy and Law to fight. After the dugong protests, Breed instead orders him to throw Law and Luffy into the sea.
Sea Animal Pirates (under Breed's control) vs. Straw Hat Pirates
This is the first animals-only pirate crew to appear.
↑ One Piece Anime — Episode 626, the Sea Animal Pirates are founded.
Straw Hat Pirates' Allies
Non Canon Allies

One Shots

:
Silk  •  Ann and Balloon  •  Dragon Team  •  Toriko and his allies

Specials

:
Medaka, Herring, and Skid  •  Meroie and Hamu  •  Maccus, Bonney, Amanda, Milia, and Holy  •  Randolph Theater members  •  Toriko and his allies  •  Dragon Team  •  Diego and Regis  •  Foxy Pirates  •  Kinoconda  •  Myskina Olga, Myskina Acier, Elizabeth, and Chavez

Movies

:
Ganzo and Tobio  •  Akisu and Borodo  •  Mobambi and Karasuke  •  Adelle and Shuraiya Bascùd  •  Maya  •  Izaya  •  Lacos  •  Brief  •  Tearoom Pirates  •  Roba and Gonzo  •  Billy  •  Schneider and Buzz  •  Kuzan  •  Mobston and Gari  •  Z  •  Carina  •  Raise Max  •  Rikka  •  Worst Generation's Super Rookies  •  Smoker  •  Buggy  •  Boa Hancock  •  Sabo  •  Crocodile

Filler Arcs

:
Apis and Ryu  •  Tajio  •  Kodama  •  Zenny Pirates  •  Pumpkin Pirates  •  Mekao and Kobato  •  Foxy, Porche, and Hamburg  •  Phoenix Pirates  •  Sayo, Lina, and Nukky  •  Yoko and Boss  •  Little East Blue residents  •  Panz Fry and Lily Enstomach  •  Sea Animal Pirates  •  Desire

Games

:
Atoli and Dias  •  Popola  •  Gaburi  •  Pato  •  Yadoya

Events

:
Dragon Team and Astro Boy and his team  •  Dragon Team and Kankichi Ryotsu  •  Hakuto  •  Toratsugu
Community content is available under
CC-BY-SA
unless otherwise noted.