The Sea Forest is a place northeast of Fish-Man Island known as the Ship Graveyard.
It has a lot coral growing around it, more so than normal due to the light emitted by the Sunlight Tree Eve. It is populated by all kinds of sea fauna, including schools of fish and pods of whales. There are also several shipwrecks there because sunken ships are dragged there by the ocean currents, thus the epithet "Ship Graveyard" (船の墓場, Fune no Hakaba?). The Thousand Sunny was swept here when the Straw Hats entered Fish-Man Island. Robin also found a poneglyph there that talks about a mysterious man named "Joy Boy".
After Noah stopped, the Sea Kings relocated Noah to the Sea Forest.
Ship Graveyard
Edit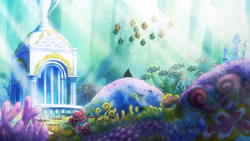 On a hill there is a graveyard with several standard graves, but the largest grave marker seen so far is the grave of the former queen of the Ryugu Kingdom, Otohime. It is an enclosed crypt with a small wall around it. On top of it is a stone, vase-like sculpture with curved handles and a cross on the top of it.
Jinbe reunites with Luffy here for the first time in two years. It is also Shirahoshi's fondest wish to pay a visit there since for ten years she was unable to leave Ryugu Palace. Thanks to Luffy and his protection, Shirahoshi was able to fulfill her wish of paying her respects to her deceased mother.
The Sea Forest graveyard echoes the Japanese forest Aokigahara, also known as the Sea of Trees (

樹海

Jukai

?

) and often referred to as the Forest of Death. The place is not only a popular tourist destination, but also became infamous for being a prominent place to commit suicide.
Community content is available under
CC-BY-SA
unless otherwise noted.