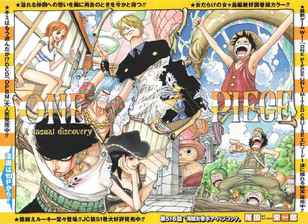 Sea of Survival: Super Rookies Saga (サバイバルの海 超新星編, Sabaibaru no Umi: Chōshinsei-hen?) is the given name to the first half of One Piece and spans from Chapter 1 to 597.
It is separated into six sagas, each saga being divided into arcs. The plot follows a pirate, Monkey D. Luffy and his quest to form a pirate crew and sail to the Grand Line to find the fabled One Piece, which will make him the "Pirate King". It is immediately followed by The Final Sea: The New World Saga.

Sea of Survival: Super Rookies
Arcs with * are not in the manga but are fillers in the anime.
Arcs with ** are Cover Stories from the manga adapted into episodes.