She-Hulk Trailer Dropped - The Loop
Play Sound
Solitaire is a Shinuchi of the Beasts Pirates who serves as a vice warden of the Prisoner Mine in the Udon region of Wano Country.[1]
Appearance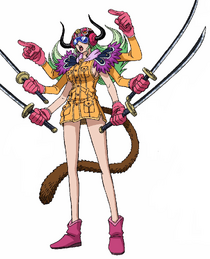 Solitaire is a fair skinned slim woman with long light mint green hair that curves upward at the sides in a wing shape. She wears an magenta aviator's helmet with a dark blue visor that covers her eyes, and has two horns typical of SMILE users that come out of holes on the sides. She also wears a short one-piece dress orange jacket with four long sleeves decorated with buttons and pockets. As a monkey SMILE user, she has six arms and a tail, and wears six frilly shoulder pads as well as six magenta gloves, one for each arm and also wears magenta boots. Four of her six arms are sleeved, while the bottom two remain bared.[1]

Personality
Solitaire is very dedicated to her job, as she became worried upon hearing that the key to the Seastone handcuffs in the Prisoner Mine was stolen. She can also get angry, as she berated her subordinates for their incompetence in letting the key get stolen.[1]
Abilities and Powers
As a Shinuchi in the Beasts Pirates, Solitaire holds a high position in the crew and has authority over lower-ranking members, and as a vice warden of the Prisoner Mines, she has a great amount of authority over the prisoners, and can also give orders to lower-ranking guards.[1]
Devil Fruit
Solitaire ate a Monkey SMILE (猿のSMILE, Saru no Sumairu?), which gives her four more functional arms as well as a monkey's tail. She is able to use her extra arms to grab more objects than a normal person would be able to.[1]
Weapons
With the abilities granted by her Devil Fruit, Solitaire wields four swords with her bottom four arms. Her skill with them is unknown, as she has not been seen using them.[1]
---
The following events are Non-Canon and therefore not considered part of the Canon story.
---
In the anime, she was able to use her swords to cut through solid rock. She demonstrates enough skill to face Raizo for a short period. She performed a spinning drill attack that was strong enough to deflect shurikens thrown at her and take out Raizo's shadow clones.[2]
---
Concludes non-canon section.
---
History
Wano Country Arc
Solitaire was in the Executive Tower of the Prisoner Mine when her subordinates reported that the keys to the prisoners' Seastone handcuffs had been stolen. Solitaire berated them for not being able to prevent this and told them to search every part of the tower, saying the culprit must still be in there.[1]
After Kawamatsu was freed and joined up with Raizo and Kikunojo, Solitaire was seen near Babanuki as he ordered the guards to prepare Excite Bullets.[3] As the prisoners later rebelled and took over the prison, her current status remains unknown.
Anime and Manga Differences
Solitaire is given additional scenes in the anime, including her fighting Raizo.[4][5] When the prisoners were ready to rebel, they also threatened and cornered Solitaire.[2]
Trivia
Solitaire is a popular single-player card game, fitting with the card game-themed names of the Beasts Pirates headliners.
Her overall design is possibly a pun on both Spider Monkey and Spider Solitaire. 
Solitaire's SMILE fruit is the first and only one so far to have the animal name written in kanji and not katakana.

This makes it the first and only so far named Devil Fruit to have a kanji name at all.
References
Governor-General

:
Kaidou

All-Stars

:
King  •  Queen  •  Jack

Tobiroppo

:
X Drake ‡  •  Page One  •  Ulti  •  Who's-Who  •  Black Maria  •  Sasaki

Shinuchi

:
Sheepshead ?  •  Ginrummy ?  •  Basil Hawkins  •  Holed'em  •  Speed ‡  •  Dobon  •  Babanuki ‡  •  Daifugo ‡  •  Solitaire  •  Bao Huang  •  Briscola ‡  •  Fourtricks ‡  •  Hamlet ‡  •  Mizerka ‡  •  Poker ‡

Gifters

:
Batman  •  Gazelleman ‡  •  Mouseman  •  Snakeman  •  Rabbitman  •  Sarahebi  •  Alpacaman  •  Madilloman  •  Dachoman  •  Tenjo-Sagari  •  Nure-Onna  •  Caimanlady  •  Wanyudo  •  Armored Division ‡  •  Trio the Grip ≠  •  Bearman ≠  •  Llamaman ≠  •  Tigerman ≠

Waiters

:
Massui  •  Pudos  •  Ibiributsu  •  Donannoyo  •  Uwattsura  •  Nokotti

Numbers

:
Inbi  •  Fuga  •  Zanki  •  Jaki  •  Goki  •  Rokki  •  Nangi  •  Hatcha  •  Kunyun  •  Juki

Samurai

:
Fukurokuju ‡  •  Daikoku  •  Raijin  •  Fujin  •  Hanzo  •  Chome  •  Jigoku Benten  •  Bishamon  •  Yazaemon  •  Kazekage  •  Sarutobi  •  Hotei

Other Members

:
Scotch ?  •  Scratchmen Apoo  •  Hihimaru ‡  •  Kamijiro  •  Gorishiro ‡

Subordinate Crews

:
Drake Pirates *  •  On Air Pirates  •  Hawkins Pirates

Allies and Affiliates

:
Big Mom Pirates  •  Yamato ‡  •  Kurozumi Family (Kurozumi Orochi) ‡  •  Donquixote Pirates (Donquixote Doflamingo  •  Caesar Clown) ‡  •  Bounties Pirates ≠

Ships

:
Mammoth †  •  Liberal Hind ‡  •  Stay Tune  •  Grudge Dolph

Abilities

Devil Fruit Based

:
Uo Uo no Mi, Model: Seiryu  •  Ryu Ryu no Mi, Model: Pteranodon  •  Ryu Ryu no Mi, Model: Brachiosaurus  •  Zou Zou no Mi, Model: Mammoth  •  Ryu Ryu no Mi, Model: Allosaurus ‡  •  Ryu Ryu no Mi, Model: Spinosaurus  •  Ryu Ryu no Mi, Model: Pachycephalosaurus  •  Ryu Ryu no Mi, Model: Triceratops  •  Kumo Kumo no Mi, Model: Rosamygale Grauvogeli  •  Neko Neko no Mi, Model: Saber Tiger  •  Inu Inu no Mi, Model: Okuchi no Makami ‡  •  Wara Wara no Mi  •  Oto Oto no Mi  •  SMILE

Fighting Style Based

:
Haki  •  Shuron Hakke  •  Rokushiki  •  Alpaca Kenpo  •  Ninjutsu

Weapons Based

:
Hassaikai  •  Karakuri Sword  •  Karakuri Rasento  •  Takeru ‡

Support Based

:
Koro  •  Seastone  •  Excite Bullets (Mummy  •  Ice Oni)  •  Excite Shot
Abilities

Devil Fruit Based

:
Artificial Devil Fruit  •  Fuku Fuku no Mi  •  Fude Fude no Mi (Ryunosuke †  •  Kazenbo)  •  SMILE  •  Zou Zou no Mi, Model: Mammoth  •  Kibi Kibi no Mi  •  Inu Inu no Mi, Model: Tanuki  •  Wara Wara no Mi  •  Uo Uo no Mi, Model: Seiryu  •  Juku Juku no Mi  •  Maki Maki no Mi  •  Ryu Ryu no Mi, Model: Allosaurus  •  Ryu Ryu no Mi, Model: Spinosaurus  •  Ryu Ryu no Mi, Model: Pteranodon  •  Hito Hito no Mi, Model: Onyudo  •  Ryu Ryu no Mi, Model: Brachiosaurus  •  Oto Oto no Mi  •  Ryu Ryu no Mi, Model: Pachycephalosaurus  •  Ryu Ryu no Mi, Model: Triceratops  •  Kumo Kumo no Mi, Model: Rosamygale Grauvogeli  •  Neko Neko no Mi, Model: Saber Tiger  •  Hebi Hebi no Mi, Model: Yamata no Orochi  •  Inu Inu no Mi, Model: Okuchi no Makami  •  Toki Toki no Mi †  •  Mane Mane no Mi †  •  Bari Bari no Mi †  •  Tori Tori no Mi, Model: Nue ≠

Fighting Style Based

:
Haki (Ryuo)  •  Oden Two Sword Style  •  Foxfire Style  •  Ninjutsu  •  Kappa Style

Weapons

:
Shusui  •  Kitetsu (Shodai Kitetsu ?  •  Nidai Kitetsu  •  Sandai Kitetsu ‡)  •  Sukesan and Kakusan  •  Tsuji Shibai  •  Soto Muso  •  Hassaikai  •  Takeru  •  Ame no Habakiri  •  Karakuri Rasento  •  Enma ‡