Confirmation
I just need to know if the bounty on this page is indeed correct or made up. (Have not seen the Copper Movie). --One-Winged Hawk 19:28, 11 September 2008 (UTC)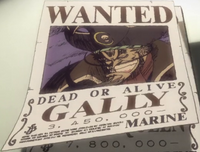 Here.Mugiwara Franky 02:40, 12 September 2008 (UTC)

JUMP Super Anime Tour: One Piece - ROMANCE DAWN
Offical Website:
http://www.jumpland.com/animetour/op/index_en.html
It looks AWESOME! Especially since Brook's going to be in it, and Franky too, and all the other Straw Hats! - BattleFranky202 04:32, 7 November 2008 (UTC)
Name Spelling
Hey! Let's talk this out!

This is an active talk page. Please participate if you wish to make changes to the subject at hand. Remember to remain calm and civil throughout the discussion!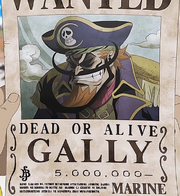 Umm, his name is spelled Gally in the Romance Dawn Story, not Galley. As such, I changed the reasoning that said "the other one was spelled Gally, and this is spelled Galley, so that signifies they are different people". It was spelled Gally on his wanted poster, so should there be a name change (at least to the in article spellings)? Nightmare Pirates (talk) 08:28, August 26, 2018 (UTC)