Can we say that Rakuyou resembles Jack Sparrow from "Pirates of the Carabbean"? --Meganoide 14:22, January 29, 2011 (UTC)
YEA HE SURE DOES RESEMBLEStone Roger 14:24, January 29, 2011 (UTC)Stone Roger
Possible additions to his abilities & powers?
Edit
Shouldn't it be worth mentioning that under his abilities & powers that he emerged unharmed and uninjured after the war, as another testament to his power?A Wikia Helper 19:35, February 22, 2011 (UTC)
Biting Kizaru
Edit
The picture in the page that says "Rakuyo's chain-chomp biting Kizaru", is it just showing Kizaru shooting beams or the problem is about my PC? Can someone change it with the moment that chain chomp bites or a gif.? Whiskey Talk 15:16, April 8, 2011 (UTC)
No it does show that Rakuyo 'bites' Kizaru with his weapon..No need to change it..!! ++LuffyPirateKing++ (What?) 15:21, April 8, 2011 (UTC)
No, it for the most part shows Kizaru shooting his lasers. There is only a brief instant showing Rakuyo's weapon going through Kizaru. It needs to be fixed.DancePowderer Talk 17:20, April 8, 2011 (UTC)
One piece blue deep
Edit
In one piece blue deep databook says that Rakuyo's weapon has eaten a carnivorous zoan..Antonisgabrielides 14:05, March 9, 2012 (UTC)
Confirmation is needed. 80.216.248.111 10:33, April 19, 2012 (UTC)
This is not really. In page 219 the image of Kizaru being bitted by Rakuyo's weapon is not finalized to show the "weapon's ability" but the "Logia's intangibility". There is the incrimined page: http://www.cantilux.net/files7/1852110440.jpg. Rayleigh92 22:37, April 29, 2012 (UTC)
Trivia: His flail looks like a chain chomp?
Edit
When I immediately saw Rakuyo's flail I immediately thought of a chain chomp from the Super Mario Bros. videogame series. I think the resemblance is quite striking, should it be added as trivia?
Chain Chomp: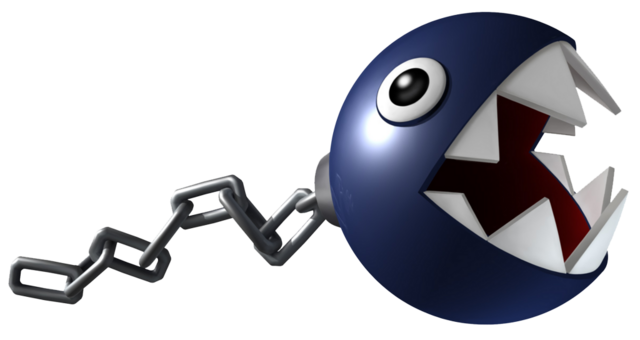 Please discuss peacefully!
Grievous67 (talk) 15:26, November 22, 2014 (UTC)Grievous67
Community content is available under
CC-BY-SA
unless otherwise noted.