Jurassic World: Dominion Dominates Fandom Wikis - The Loop
Play Sound
The Toge Toge no Mi is a Paramecia-type Devil Fruit that allows the user to grow spikes on any part of their body, and turn any body part entirely into a spike, making the user a Spike Human (棘人間, Toge Ningen?).[1] It was eaten by Zala, better known by her Baroque Works alias Miss Doublefinger.
Etymology
"Toge" (

棘

?

) means "spike" in Japanese.
In the Viz Manga and 4Kids and Funimation dubs, it is called the Spike-Spike Fruit.
Strengths and Weaknesses
Strengths
The main strength of this fruit is that it allows the user to sprout long and sharp spikes from their body. This means that the user can transform any of their body parts, be them their arms, feet, facial features or even hair, into a deadly spear and quickly impale anything in their way.
The spikes are very strong, enough to pierce solid rock with ease. This means that it is nearly impossible for an opponent to just hide or protect themselves behind a wall, as the user's spikes will just penetrate through the barrier and hit them anyway. Moreover, the spikes shoot out nearly instantly, making it hard to react and avoid them in time.
Aside from amazing offensive applications, the fruit's ability also grants great defensive power to the user, especially at close range. If the foe attempts to struggle against the spikes, they will likely get injured by them; Nami ended up with her foot impaled and bleeding heavily when she tried to force Zala back at the end of her fight.[2]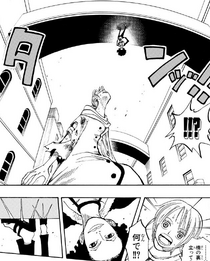 For speed and mobility, the user can spawn long spikes on the soles of their feet to make greater and quicker steps or to attach themselves to the surface of a ceiling, allowing them to gain a high foothold for sneak attacks.[3][4] Moreover, the user can curl themselves into a spiked ball and roll around after a target.
Weaknesses
Nami demonstrated that it is possible to hinder a Toge Toge no Mi user by getting them tangled into cloth or something similar, as the spikes will be stuck, forcing the user to call them back.[5]
Other than that, the user is affected by the standard Devil Fruit weaknesses.
Usage
Zala primarily uses this fruit's abilities for combat and assassination. Her basic attacks mainly involves stabbing her enemies with her spiked hands or fingers, although, as Zala herself claims, any part of her body can be turned into an effective weapon. An experienced assassin herself, Zala's attacks tend to be quick and apparently lethal, although she was tricked into hitting illusions of Nami several times during their fight, never managing to truly hit her vitals.
Zala has displayed various smart uses of her fruit's capabilities, especially when dealing with a fleeing or hiding foe. She can puncture holes in a wall to form a makeshift doorway for her to walk through or grow spikes under her feet to walk faster or stand upside-down from the ceiling.
Aside from a vast repertorium of assassination techniques, Zala can somehow "dope" herself with her own spiked fingers to greatly increase her muscle mass temporarily, gaining extra physical strength to break even stone columns.[6]

Techniques
Double Stinger (

ダブルスティンガー

Daburu Sutingā

?

): Zala turns her hands into single, large spikes before stabbing at her opponent multiple times in rapid succession. In the anime, the attack was not named. This was first seen during Zala and Nami's battle.[7]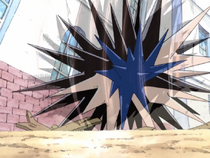 Stinger Hedgehog (

スティンガーヘッジホッグ

Sutingā Hejjihoggu

?

): After rolling her body into a ball, Zala sprouts spikes in all directions, giving her the appearance of a sea urchin. In this form, she can attack by either dropping straight down on top of her opponent or by rolling along the ground and leveling everything in her path. In the Viz Manga and 4Kids and Funimation dubs, this is called Hedgehog Stinger. This was first seen during Zala's fight against Nami.[9]
Sewing Stinger (

ソーイングスティンガー

Sōingu Sutingā

?

): Zala sprouts a long spike from the bottom of each foot before running along the ground, using the spikes as stilts to trample and shred anything in her path. The way she walks makes the spikes look like needles on a sewing machine, hence the name. In the 4Kids dub, this is called Stilleto Stinger. This was first seen during Zala's fight against Nami.[3]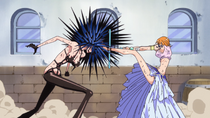 Sea Urchin Stinger (

シー・アーチンスティンガー

Shī Āchan Sutingā

?

): After turning her hair into a ball of spikes, Zala charges at her opponent. This technique is strong enough to easily make a perfectly circular hole in a stone wall, although Nami was able to stop the attack with her injured left leg. This was first seen during Zala's fight against Nami.[11]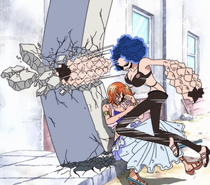 Toge Toge Doping (トゲトゲ針治療

Toge Toge Dōpingu

?

, literally meaning "Spike Spike Acupuncture"): Zala turns her fingers on both hands into spikes before stabbing herself in the shoulders. This causes her arms to enlarge and become extremely muscular, like some kind of doping. This is called Spike-U-Puncture in the Viz Manga and 4Kids dub and Spike-Spike Doping in the Funimation dub. In the 4Kids dub, the scene where she stabs herself is cut out, and her arms simply bulk up for no apparent reason. This was first seen during Zala's fight against Nami.[6]
Trivia
In a response to a fan, Oda explained why Miss Doublefinger's powers look like they were coming from her clothes. He replied that if the spikes that she produced had ripped through her clothes like they could, the story would become unnecessarily "erotic".[13]
References
External Links
Zoan

Standard

:
Ushi Ushi no Mi, Model: Bison  •  Hito Hito no Mi  •  Tori Tori no Mi, Model: Falcon  •  Inu Inu no Mi, Model: Dachshund  •  Mogu Mogu no Mi  •  Inu Inu no Mi, Model: Jackal  •  Uma Uma no Mi  •  Neko Neko no Mi, Model: Leopard  •  Zou Zou no Mi  •  Inu Inu no Mi, Model: Wolf  •  Ushi Ushi no Mi, Model: Giraffe  •  Hebi Hebi no Mi, Model: King Cobra  •  Hebi Hebi no Mi, Model: Anaconda  •  Kame Kame no Mi  •  Sara Sara no Mi, Model: Axolotl  •  Mushi Mushi no Mi, Model: Kabutomushi  •  Mushi Mushi no Mi, Model: Suzumebachi  •  Tama Tama no Mi  •  Tori Tori no Mi, Model: Albatross  •  Inu Inu no Mi, Model: Tanuki  •  Tori Tori no Mi, Model: Eagle ≠

Ancient

:
Ryu Ryu no Mi, Model: Allosaurus  •  Zou Zou no Mi, Model: Mammoth  •  Ryu Ryu no Mi, Model: Spinosaurus  •  Ryu Ryu no Mi, Model: Pteranodon  •  Ryu Ryu no Mi, Model: Brachiosaurus  •  Ryu Ryu no Mi, Model: Pachycephalosaurus  •  Ryu Ryu no Mi, Model: Triceratops  •  Kumo Kumo no Mi, Model: Rosamygale Grauvogeli  •  Neko Neko no Mi, Model: Saber Tiger

Mythical

:
Hito Hito no Mi, Model: Nika *  •  Tori Tori no Mi, Model: Phoenix  •  Hito Hito no Mi, Model: Daibutsu  •  Uo Uo no Mi, Model: Seiryu  •  Inu Inu no Mi, Model: Kyubi no Kitsune  •  Hebi Hebi no Mi, Model: Yamata no Orochi  •  Hito Hito no Mi, Model: Onyudo  •  Inu Inu no Mi, Model: Okuchi no Makami  •  Inu Inu no Mi, Model: Bake-danuki ≠  •  Batto Batto no Mi, Model: Vampire ≠  •  Tori Tori no Mi, Model: Nue ≠

Artificial

:
Artificial Devil Fruit (SMILE)