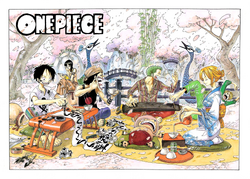 I decided to edit in this Wikia when I first heard from my friends that this site could be more pleasant and understandable if there was a way to correct the grammar and spelling mistakes, so I thought to give it a try.
I discovered through daily and intense reading that this One Piece Wikia is much more informative than Wikipedia and possesses far greater potential than any One Piece fan site or encyclopedia.
I truly thank you from the bottom of my heart One-Winged Hawk, Mugiwara Franky, Joekido, New Babylon, Tipota, Kdom for your amazing work on this Wiki as well as the rest editors that helped in this project's growth!! Keep up the good work and your spirit high!!!

Community content is available under
CC-BY-SA
unless otherwise noted.