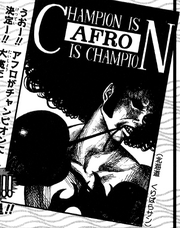 Usopp Gallery Pirates (ウソップギャラリー海賊団, Usopp Garari Kaizokudan?) is a segment that can be found in between or after chapters published in One Piece volumes along with the SBS pages, where readers can send in their One Piece-related fanart to be featured along with a small comment by "Usopp". In an SBS, Oda said that the works were chosen based on how good and balanced they are, but mostly on how well the address was written on the envelope. Grand prize winners receive a board with Oda's autograph and an illustration of Luffy on it.
The first volume to contain an Usopp Gallery was Volume 5.[1]
Click "show" to view galleries. [show][hide]
↑ One Piece Manga — Vol. 4 (p. 191), 'Usopp' announces the start of Usopp Gallery Pirates in Volume 4 as well Shueisha's postal address for One Piece.
One-Piece.com - Originally colored Usopp Gallery Pirates submissions (Volume 73-)
Fanart – Wikipedia article on fanart.
Community content is available under
CC-BY-SA
unless otherwise noted.