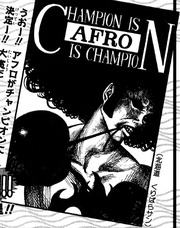 Usopp Gallery Pirates is a page where Japanese readers can send in their picture of a character in the series, their own pirate clan etc. and get a small comment by Usopp. In the SBS, Oda said that the pictures were chosen on how good and balanced they are, but mostly on how well the address was written on the envelope. Grand prize winners receive a board with Oda's signature on it.
The images sent are grouped together at the end of every volume and sometimes at the end of chapters in replacement of SBS. The first volume to contain an Usopp Gallery was Volume 5.[1]
Galleries
Click "show" to view galleries. [show][hide]
References
See also
External Links
One-Piece.com - Originally colored Usopp Gallery Pirates submissions (Volume 73-)
Fanart - Wikipedia article on fanart.