Doctor Strange in The Multiverse o Madness - The Loop
Play Sound
Volume 5 is titled "For Whom the Bell Tolls".
Cover and Volume Illustration
The cover is eggshell white, the title is bright blue and the author's name is dark blue.
Luffy, Nami, Usopp and Zoro stand in front, in their debut outifts, while the Usopp Pirates and Kaya stand in the background. The location appears to be Syrup Village.
Author's Notes
Author's Notes
[\/]

In volume 4, since it said you wanted to scribble on a dog, if it's fine with my dog('s picture), please feel free to scribble on him to your heart's content! He's called 「Charmy」(Original name Tome).

(from the Shizuoka Area, I love monkeys♡ san)

>゚)##)彡

Thank you very much. With much responsibility, I've turned Tome into one sexy dog. In this world, there are various animals with exotic colors to match their surroundings. For example, it's possible that a dog who grew up in a field of sunflowers may evolute like this in order to protect itself from outer enemies, isn't it. Living things are just so mysterious. U mad? I love monkeys♡ san.
Chapters
See also the associated category: Volume 5.
SBS Notes
Benn Beckman's and Lucky Roux's names are revealed.
The writing on Morgan's chin is explained.
It's explained how Zoro can talk when using his three-sword-style.
Usopp Gallery Pirates
(Note: This is the first Volume to feature the Usopp Gallery Pirates.[2])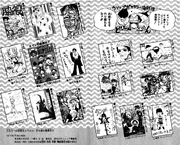 Volume Extras
Volume Changes
External Links
References