Doctor Strange in The Multiverse o Madness - The Loop
Play Sound
Volume 52 is titled "Roger and Rayleigh".
Cover and Volume Illustration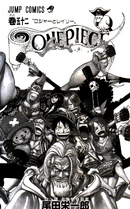 The colored cover has a cotton candy pink background, and the title logo uses blood orange (fading from white), red, and orange in its colorscheme. There is an orange panel behind the characters, and the author's name is also printed in a blood orange color.
On the front cover and for the volume illustration, the Straw Hat Pirates party in the background with Silvers Rayleigh in front.
On the spine, Rayleigh is featured, and the skull on the spine is colored pink.
Author's Notes
Author's Notes

Vending machines during the winter have these labels that say "wa~rm" on them, so when I go with that flow and say "shoot, deadline's coming clo~se", it feels

Relaxing.

In the first chapter, if Luffy had said "I'll become the Pirate Ki~ng!" instead, something would feel slightly off. Just a little. Volume 52!! "I want to sta~rt it".
Chapters
See also the associated category: Volume 52.
SBS Notes
Number of fan-drawn SBS Headers featured: 8
The helmets worn by the Celestial Dragons are actually the bubbles that are common in Sabaody.
The real-life pirate inspirations of the Supernovas are revealed.
The first voice actor SBS is released, with Mayumi Tanaka, the voice of Luffy, answering questions.
Usopp Gallery Pirates
Located on pages 208-215.
Total number of fan submissions featured: 53 (+2 mailing address posters).
Grand Prize: Jyakimen [ジャキ面] (Kanagawa, Japan)
Trivia
The inside front cover of this volume, along with Volume 15, 19, 38, 56, and 62, is completely different from the outside cover. It features Pandaman, Pandawoman, Domo-kun and Nnke-kun, Tomato Gang, and Unforgivable Mask along with several other unnamed Easter eggs in a single panel. Instead of Rayleigh, Unforgivable Mask is featured on the inside cover spine.
A small Pandaman can be seen on the bottom of the inside back cover of this volume. This is a continuation of an Easter egg series that that has been featured on the back of alternate covers for volumes 25-70.
This is the only volume where the main front cover is used for the volume illustration on page 3.

References