Jurassic World: Dominion Dominates Fandom Wikis - The Loop
Play Sound
Volume 54 is titled "No One Can Stop This Now".
Cover and Volume Illustration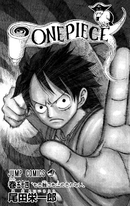 The colored cover has a burnt gold background with an indigo box in the center, and the title logo is peach (fading from white) and cerulean. The author's name is written in a peach color as well.
In the front cover, Magellan stands in the center background, with a Blue Gorilla on his right and Minotaurus to his left. Below, Luffy can be seen in the center foreground with his arms stretched out towards the reader, with a tear indicating he is flying out of the cover. To his right is Hannyabal and to his left is Sadi, and below Luffy stands Saldeath. Behind, two large chains form an X shape, and the Impel Down facility is shown in the background.
Magellan is featured on the spine, and the skull logo on the spine is colored sky blue.
For the volume illustration on page 3, an angry Luffy is about to throw a punch with his right arm. There is a dark spiral in the background.

Author's Notes
Author's Notes

I hear that humans are supposed to be able to live until the age of 140. Then from there on, it's said that their lives get shorter as they put more stress onto their bodies. Mangakas always have way too much pressure in their lives, so I'll probably only get to live up to about the age of 135 (bummed).

Life is so short. Volume 54!! Starting now----!!
Chapters
See also the associated category: Volume 54.
SBS Notes
Number of fan-drawn SBS Headers featured: 8
Usopp Gallery Pirates
Located on pages 208-215.
Total number of submissions featured: 56 (+1 UGP Header and 2 mailing address posters)
Grand Prize: Hashimura, Kyouki [橋村京樹] (Nara, Japan)
Trivia
On the bottom right corner of the inside back cover of this volume, Pandaman and Domo-kun can be found staring at Nnke-kun, who just arrived on a UFO. This is a continuation of an easter egg series that has been featured on the alternate back covers of volumes 25-70.

References