House of the Dragon Trailer - The Loop
Play Sound
Volume 59 is titled "Portgas D. Ace Dies".
Cover and Volume Illustration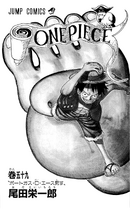 The colored cover has a orange (fading from white) background, and the title logo is gray (fading from white), dark orange, and solid gray. The author's name is printed in dark orange.
On the front cover, a bloody Ace and Luffy fight back-to-back at the bottom front, with parts of Ace's body on fire. In the background, Shanks is to their left and to their top right is a laughing Blackbeard. Behind the four is Whitebeard with portion of his head burned off, and to his right is Jinbe.
Ace is featured on the spine, and the skull logo on the spine is colored purple.
For the volume illustration on page 3, Luffy stands with his right leg enlarged, ready to throw a kick.

Author's Notes
Author's Notes

You ask why I'm drinking alone? You know how there's this one song that someone was singing about how if everyone "imagined" of a peaceful world, then the world would gradually become peaceful, right... You wanna drink with me too? After all, today is the day John died.

Ah, John the Dog. THE DOG.

Volume 59 is about to begin---!!!
Chapters
See also the associated category: Volume 59.
SBS Notes
Number of fan-drawn SBS Headers featured: 6
A fan reveals that Garp's scar has disappeared 25 times, which Oda partially explains by saying the scar tingles and floats up when a hated enemy is nearby.
Oda draws what is inside the Straw Hats' heads.
Oda explains that the commanders of the Whitebeard Pirates are part of the crew and are ranked equally, but there are separate pirate crews which are allied with Whitebeard.
Law, Blackbeard, Marco, Crocodile, Ivankov, Aokiji, Kizaru, and Akainu get birthdays.
Usopp Gallery Pirates
Located on pages 204-211.
Total number of submissions featured: 55 (+2 mailing address posters)
Grand Prize: Ishizuka, Wakana [石塚稚菜] (Tokyo, Japan)
Trivia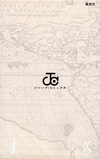 References