Jurassic World: Dominion Dominates Fandom Wikis - The Loop
Play Sound
Volume 60 is titled "My Little Brother".
Cover and Volume Illustration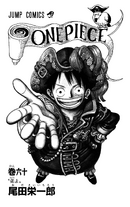 The colored cover background is turquoise, and the title logo is peach (fading from white) and orange. The author's name is printed in orange.
On the front, Luffy, Ace, and Sabo from ten years ago are running forward in the center while carrying poles. To their right is Curly Dadan and to their left is a laughing Makino. Behind them is a tree and present-day Luffy coming out of it, holding Rayleigh's Vivre Card. To grown-up Luffy's right is Rayleigh and to his left is Dragon.
Young Ace, Luffy and Sabo are featured on the spine, and the skull logo on the spine is colored deep turquoise.
For the volume illustration on page 3, Luffy stands, wearing a stereotypical pirate captain outfit, and reaches out towards the reader with his right hand.

Author's Notes
Author's Notes

"The Standing Death of Benkei".

I believe this death wins first place when it comes to manliest ways of dying that have been told down the Japanese generations.

In the previous volume, the death of the great "Whitebeard" was the epitomy of this saying. Speaking of Benkei, I have this one trait that really mirrors him. Yeah. You see, I heard that, coincidentally, Benkei had this same little quirk, but the truth is that

I also feel like crying when I accidentally bang my shin.

Guess it can't be helped... that men among men end up resembling each other.

Alright, Volume 60 starting--!!
(Translator's note: Text in image says "GYAAAAAAAHHH My nose bled...". For more information on Benkei, go here: Wikipedia:Benkei)
Chapters
See also the associated category: Volume 60.
SBS Notes
Number of fan-drawn SBS Headers featured: 8
Usopp Gallery Pirates
Located on pages 208-215.
Total number of submissions featured: 45 (+2 mailing address posters)
Grand Prize: Go [剛] (Hiroshima, Japan)
Volume Changes
Trivia
References