Jurassic World: Dominion Dominates Fandom Wikis - The Loop
Play Sound
Volume 66 is titled "The Road Toward the Sun".
Cover and Volume Illustration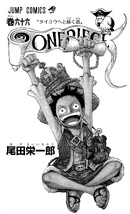 In the colored cover, the background is yellow and the title logo is printed in a clear color, burnt gold, and red. The author's name is in dark red.
The front cover features Jinbe and Luffy sitting back to back, with Shirahoshi holding her pinky finger up behind them. Smoker and Tashigi are on the left, while Tamago and Pekoms are on the right. There are bubbles and corals in the background, and a large rainbow behind the One Piece logo.
On the spine, the skull mark is light green, and Luffy and Tamago are featured.
For the volume illustration on page 3, an excited Luffy is in the air with his legs crossed. He wears a typical traveler's outfit, and wears a crown and some jewelry on top of his straw hat. There is what seems to be a rolled-up map and a beaded necklace in his left hand, and a handgun hangs from the small traveling bag he carries. Another beaded necklace is also sticking out from his vest pocket.

Author's Notes
Author's Notes

Ordering a "Chef's Capricious Pasta" is a gamble.  I'd be crying myself to bed if the chef were "feeling like not making anything today" or "feeling like he wanted to eat his own cooking today". I'd at least want to know how the chef has been doing recently. "The chef's daughter got a 100 on her test. Chef's Capricious Pasta!!" Sounds delicious--!! "The chef's wife has been cheating on him... Chef's... Capricious Pasta..." .......uhhhh--...... Now then! The capricious captain's big adventure!! Volume 66 is starting--!!
(Translator's Note: Text in image says "I wonder what I should mix together today--". "Capricious Man" is printed on his hat.)
Chapters
See also the associated category: Volume 66.
SBS Notes
Number of fan-drawn SBS Headers featured: 6
Usopp Gallery Pirates
Located on pages 202-209.
Total number of fan submissions featured: 48 (+2 mailing address posters)
Grand Prize: Kobayashi, Seido [小林正道] (Gunma, Japan)
Volume Changes
Magazine Version

Volume Version

Explanation
Chapter 650, page 17.
Correction: Fixed "Bokoms" (ボコムズ) to "Pekoms" (ペコムズ).
Chapter 653, page 15.
Correction: Switched Shirahoshi's left hand and right hand for consistency with the pinky promise.
Chapter 654, page 16.
Correction: Fixed the mistake in the lyrics for Binks' Sake from "island" (島) to "bird" (鳥). 
KEY Corner
"K(otoshi,) E(iga) Y(aruyo!!) Corner" (lit. "We're doing a movie this year!! segment") is located on page 213. Here, the author provides some information on the next movie. On the following 2 pages, there is a large movie teaser provided that reveals the creators of the movie and a silhouette of Z himself.
Volume Extras
Titled Coloring book segment [ぬり絵のコーナー], a self-colorable illustration of the Supernovas is provided on page 122.
Trivia
On the inside back cover of this volume, Pandaman can be found jumping onto (attacking) the back of a stretched out version of the unnamed easter egg introduced on the alternate cover of Volume 52. This is a continuation of an easter egg series that has been featured on the alternate back covers of volumes 25-70.

References