Jurassic World: Dominion Dominates Fandom Wikis - The Loop
Play Sound
Volume 68 is titled "Pirate Alliance".
Cover and Volume Illustration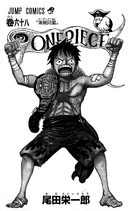 The colored cover background is bluish-white, and the title logo is printed in fading ice-blue, light blue, and red. A unique feature is that the top of the title logo is covered in snow. The author's name is printed in 2 colors (red and orange), which is also a unique feature to this volume.
On the front, Caesar Clown surrounds the center of the cover, with his torso and face in the top right. Surrounded by him are portraits of, from right to left, Smoker, Luffy, and Law. On top of those portraits are the same three characters, shown from a top-down perspective. Smoker and Luffy stand next to each other, with Law behind Smoker. Snow is falling in the foreground.
On the spine Law and Luffy are featured, and the skull print on the spine is colored purple.
For the volume illustration on page 3, a bandaged Luffy shouts out with a victorious pose. He is wearing fire-print shorts and has a large wrestling champion belt over his shoulder.

Author's Notes
Author's Notes

Does the thought of "I DON'T EVER WANNA GROW UP!!" ever cross your mind?

When surrounded by adults who can hardly be considered role models, kids will lose their appetite and refuse to grow. If we were to take full advantage of this phenomena, it would become a revolutionary anti-aging treatment. Maybe the more shitty adults there are out there, people who don't want to end up like them will be able to stay young forever. But these days, there are awesome adults regardless of whether they're over 40 or over 70 which is just TOO BAD.

Strive for volume 70!! Volume 68's about to start--!!!
Chapters
See also the associated category: Volume 68.
SBS Notes
Number of fan-drawn SBS Headers featured: 6
A fan tabulated which prefectures each Usopp Gallery Pirates piece has come from, and the top five results were as follows:
Usopp Gallery Pirates
Located on pages 140, 180, 200, and 218-221.
Total number of submissions featured: 44 (+2 mailing address posters)
Grand Prize: Yucchan's daddy [ゆっちゃんパパ] (Hokkaido, Japan)
Volume Changes
Magazine Version

Volume Version

Explanation
Chapter 669, page 14.
Correction: Changed the initials on the sail from "PH" (Punk Hazard) to "CC" (Caesar Clown) for consistency with later chapters.
Chapter 673, page 14.
Correction: Added Monet's tail feathers.
KEY Corner
"K(otoshi,) E(iga) Y(aruyo!!) Corner" (lit. "We're doing a movie this year!! segment") is located on pages 222-225. Here are the highlights of what is provided:
A comment from Avril Lavigne, who sings two of Film Z's theme songs
A friendly interview by Oda with the director of the film, Tatsuya Nagamine
A list of guest voice actors for the movie's original characters
Shoutouts to Kusanagi, a known Japanese background animation team, and designers from Armani Exchange for their collaboration with the Film Z team.
Information on the airing of anime episodes from the Z's Ambition Arc as well as the special, Episode of Luffy, that were coming up
Other miscellaneous information on Film Z
2 pages later, on pages 228 and 229, rough sketches of Film Z character designs are also provided.
Trivia
This volume features a unique cover with the title logo covered in snow, and the author's name printed in 2 colors.
Before the volume begins there is a Character Switcheroo Chart on who's who after Trafalgar Law switch up: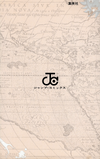 On the inside back cover, the legs of the unnamed easter egg introduced on the alternate cover of Volume 52 can be found flying off the bottom left corner of the page. On the top right corner, another unnamed easteregg can be seen snacking on Pandaman. This is a continuation of an easter egg series that has been featured on the alternate back covers of volumes 25-70.

References