Volume 69 is titled "SAD".
Cover and Volume Illustration
Edit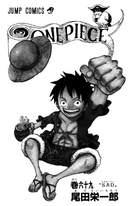 The colored cover has a background which has a gradient of black and light gray. The title logo is printed in red (fading to white), black, and solid red. The author's name is printed in greyish-blue.
On the front, Luffy stands in front of the other characters in the cover. The characters in the cover clockwise from the top left with Trafalgar Law, Momonosuke in his dragon form, Roronoa Zoro, Tashigi, Smoker, Mocha holding on to the NHC10 candy with Doran and the other children chasing her, and Chopper in his Monster Point. Behind on the top right corner, a gear wheel is also shown.
On the spine, Zoro is featured. The skull on the spine is colored fuschia. 
For the volume illustration on page 3, Luffy (his straw hat flying off) happily poses with his fist up and a splashing drink in his other hand.

Author's Notes
Edit
Author's Notes

← Oh, shit!!

When your toilet paper accidentally rips vertically in half, it begins.

THE GAME OF DEATH, that is.

The left side is already two~three laps ahead of the right side and still going.

A man must must never look back to his mistakes!!

It is too late to turn back now!!

Volume 69 starting---!!!
See also the associated category: Volume 69.
SBS Notes
Edit
Number of fan-drawn SBS Headers featured: 6
Usopp Gallery Pirates
Edit
Located on pages 186, 206, 226, 246, and 247.
Total number of submissions featured: 28
Grand Prize: Kiku-chan [キクちゃん] (Hokkaido, Japan)
Volume Changes
Edit
Magazine Version

Volume Version

Explanation
Chapter 681, page 11.
Correction: Added black coloring to Luffy's fists due to the Busoshoku hardening.
Chapter 689, page 18-19.
Correction: Reversed the bottom-left panel to remove the left/right arm inconsistency.
You can find Pandaman posing on the inside front cover, behind Luffy's head.
On the top right corner of the inside back cover of this volume, you can find an unnamed easter egg (introduced on the alternate cover of Volume 52). This is a continuation of an easter egg series that has been featured on the alternate back covers of Volumes 25-70.
References
Edit
↑ 1.0 1.1 One Piece Volume 69: (Japanese) Shueisha - VIZ Media
Community content is available under
CC-BY-SA
unless otherwise noted.