Volume 6 is titled "The Oath"
Cover and Volume Illustration
The cover is black, the title is bright green and the author's name is in white.
Luffy, Nami, Usopp and Zoro are posing on white stone stairs, all dressed in black formal clothing. A black cat can be seen, sitting on the railing and in the background somebody sprayed "Neigbours" on the wall.
Author's Notes
Author's Notes

Does everybody know? When you eat stuff like Spaghetti al Nero di Seppie (Squid ink Spaghetti), your poop turns black. Real black. Then how's this. If you eat rainbow spaghetti I wonder if your poop would become rainbow poop. I wonder. I wonder if nobody gives a damn about this shit.
Chapters
SBS Notes
Details about Jango's mushroom.
Nami's measurements.
Usopp Gallery Pirates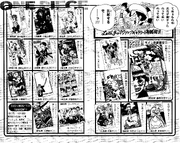 Volume Extras
Volume Changes
Trivia
External Links
References
↑ 1.0 1.1 One Piece Volume 6: (Japanese) Shueisha - Viz U.S. - Amazon U.K.