She-Hulk Trailer Dropped - The Loop
Play Sound
Volume 70 is titled "Doflamingo Appears".
Cover and Volume Illustration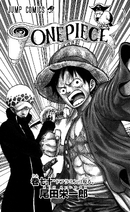 The colored cover uses a dandelion-colored background, and the title logo is black, brown, and pastel orange. The author's name is written in black.
On the front, Luffy, Law, Usopp, Nami, and Franky (in his General Franky) stand alongside Baby 5 and Buffalo. In the background, Doflamingo's face is on the right, and the newspaper revealing Hawkins', Kid's, and Apoo's alliance is on the left. Pieces of the newspaper are coming off and floating toward the top.
On the spine, Nami and Franky Shogun are featured, and the skull on the spine is colored pastel green.
For the volume illustration on page 3, Luffy angrily throws a punch towards the reader and Law stands behind with a wary look and his sword out. There are lines in the background to depict movement.
Author's Notes
Author's Notes

Cows look fabulous with their horns. I wish I could just grow horns one day. Since the dawn of time, men have always wanted horns. It's normal to have horns. They look so manly after all. I guess they'd be slightly inconvenient when going to bed? And it'd probably be difficult to do headers in soccer. And when you face your desk, you might keep hitting your desk lamp and groan in annoyance. Oh!!

Cows also groan, don't they!! Volume 70 is starting-horn!!!
Chapters
See also the associated category: Volume 70.
SBS Notes
Number of fan-drawn SBS Headers featured: 6
Usopp Gallery Pirates
Located on pages 204-209.
Total number of submissions featured: 32 (+1 UGP Header and 2 mailing address posters)
Grand Prize: Fujimoto, Takahisa [藤本孝久] (Nara, Japan)
Volume Changes
Magazine Version

Volume Version

Explanation
Chapter 695, page 1.
Correction: Changed the symbol on Caribou's coat to be consistent with later chapters.
Chapter 698, page 14.
Correction: Fixed the scar on Zoro's chest.
Chapter 699, page 1-2.
Correction: Added Zoro's eye scar.
Trivia
On the back inside cover of this volume, you can find Pandaman. This is the finale of an easter egg series that has been continued on the alternate back covers of each volume since Volume 25.

References