Jurassic World: Dominion Dominates Fandom Wikis - The Loop
Play Sound
Volume 71 is titled "Colosseum of Scoundrels".
Cover and Volume Illustration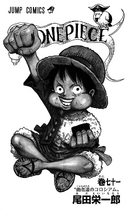 The colored cover has a reddish pink background, and the author's name is written in dark blue.
On the front, the SMILE Factory destruction team (from right to left: Luffy, Zoro, Franky, Sanji, and Kin'emon) are lined up in their disguises. In the background are portraits of the colosseum gladiators. The portraits from right to left, top to bottom are as follows: Bellamy, Cavendish, Sai, Bartolomeo, Elizabello II, Jesus Burgess (in his Mr. Store disguise), Rebecca, Boo, and Chinjao. Suleiman and Dagama are shown, but are obscured. At the top is the statue of Kyros. 
Bellamy's portrait is used for the spine, and the skull on the spine is colored reddish-orange. The title logo colorscheme uses the colors solid orange, blue, and purple.
For the volume illustration on page 3, Luffy happily munches on a large rice ball with his legs crossed and a fist in the air.

Author's Notes
Author's Notes

When a product sells really well, they say it's a "hit". They go "Successful hit!!" "Major hit!!" "Ground-Breaking hiiiit!!!".

And recently, I've been thinking.

JUST CALL IT A HOME RUN AT THIS POINT!!!

Volume 71 begins now-kakiin!!
(Translator's Note: "-kakiin" is the Japanese sfx for hitting a home run.)
Chapters
See also the associated category: Volume 71.
SBS Notes
Number of fan-drawn SBS Headers featured: 5
Usopp Gallery Pirates
Located on pages 152, 192, and 212-215.
Total number of submissions featured: 40 (+1 mailing address poster)
Grand Prize: yukarin (Okayama, Japan)
Trivia
References