Volume 72 is titled "Dressrosa's Forgotten".
Cover and Volume Illustration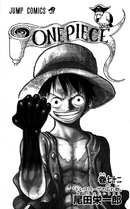 The colored cover has a turquoise background, and the author's name is written in a salmon color.
On the front, starting from the top then left to right, the order of featured characters are: Chinjao, Rebecca, Luffy under his "Lucy" disguise, Kyros as Thunder Soldier, Usopp and the Operation SOP dwarves, starting with Bomba then Flapper, Wicca, Leo and Kabu.
Rebecca and Thunder Soldier are featured for the spine, and the skull on the spine is colored peach. The title logo colorscheme uses the colors orange (fading to yellow), a salmon color, and yellow.
For the volume illustration on page 3, Luffy confidently grins and shows his right arm, which is coated with Busoshoku Haki.
Author's Notes
Author's Notes

Mini dog♡ Mini bird♡ Mini cow♡

Adding "mini" before something makes it so much more adorable, doesn't it.

Mini pig, mini rabbit, mini horse, mini rhombus, mini cat, mini bear, mini pernix, ministry...

Now then, the adorable mini-volume 72 MINI-STARTING NOW!!
Chapters
See also the associated category: Volume 72.
SBS Notes
Number of fan-drawn SBS Headers featured: 6
Usopp Gallery Pirates
Located on pages 126, 186, and 206-209
Total number of submissions featured: 34 (+2 mailing address posters)
Grand Prize: Suzuki, Atsuhito [鈴木敦仁] (Chiba, Japan)
Trivia
On the inside front cover of this volume, there are 2 differences when compared to the outer cover: Don Chinjao's head, and a small Pandaman posing on his back.
References