She-Hulk Trailer Dropped - The Loop
Play Sound
Volume 73 is titled "Operation Dressrosa SOP".
Cover and Volume Illustration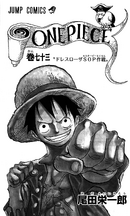 The colored cover has a honey-colored background, and the author's name is written in pansy purple.
On the front, starting from the top, the order of featured characters begin with Luffy once again under his "Lucy" disguise, being trapped by the bars of the Corrida Colosseum. It continues with Donquixote Doflamingo and Trafalgar Law attacking each other, a crying Riku Doldo III as he appeared 10 years ago, and Tony Tony Chopper, Caesar Clown, Sanji, Momonosuke, Nami and Brook at the bottom.
Sanji is used for the spine, and the skull on the spine is colored pinkish-purple. The title logo colorscheme uses the colors purple (fading from white), red, and dark purple.
For the volume illustration on page 3, Luffy has a confident grin with his right fist towards him and his left fist outward towards the reader.

Author's Notes
Author's Notes

When I was in school, I learned that this man was Prince Shotoku, a great figure from Japan's distant past. But lately, a theory has surfaced that this illustration wasn't really of Shotoku.

This ruins my pet theory that Prince Shotoku was a glutton who always carried his own rice-serving paddle around with him.

In that case,

who's this glutton?!!

History is still chock-full of mysteries. Let's get to the bottom of Volume 73!!
Chapters
See also the associated category: Volume 73.
SBS Notes
Number of fan-drawn SBS Headers featured: 6
Usopp Gallery Pirates
Located on pages 202-209.
Total number of submissions featured: 47 (+1 mailing address poster)
Grand Prize: Kaho [佳穂] (Hiroshima, Japan)
Volume Changes
Magazine Version

Volume Version

Explanation
Chapter 725, page 6.
Change: Modified the shape of Kanjuro's silhouette.
Chapter 731, page 14.
Correction: Added Sabo's glove.
Trivia
On the inside front cover of this volume, a small Pandaman is shown posing inside Doflamingo's feather coat.
References