Spider-Man: No Way Home Trailer Dropped - The Loop
Play Sound
Volume 74 is titled "I'll Always Be By Your Side".
Cover and Volume Illustration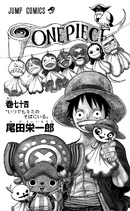 The colored cover has a purple background, and the author's name is written in turquoise.
On the front, Sugar is at the center of the background eating grapes, with Trebol on her left side and Senor Pink and his groupies on her right. In front of Sugar, Luffy runs on top of Pica, carrying Thunder Soldier with his right arm and Viola with his left. To the left of them is Usopp and to the right is Franky.
Sugar and Trebol are featured on the spine, and the skull on the spine is colored light purple. The title logo colorscheme uses the colors pink (fading from white), hot pink, and white.
For the volume illustration on page 3, Luffy and Chopper show off their respective Teru Teru Bozu. Chopper is holding a paintbrush, and the Teru Teru Bozus representing the rest of the Straw Hats are hung on a line behind the two.

Author's Notes
Author's Notes

From time to time, people talk about things that have a mochi-like texture, and I've discovered a food that has a mochi-like texture as well. Mochi.

A mochi-like Volume 74, starting nowwwwwwwwwwwww!!!
(Translator's Note: Text in image says "So mochi-like--, super mochi-like~~")
Chapters
See also the associated category: Volume 74.
SBS Notes
Number of fan-drawn SBS Headers featured: 6
Cavendish's and Issho's birthdays are revealed.
The Straw Hat Pirates' bed times and wake-up times are revealed.
All the unknown Worst Generation Jolly Rogers are shown.
Drawings of Momousagi are shown.
Usopp Gallery Pirates
Located on pages 166, 206, and 226-229.
Total number of submissions featured: 35 (+1 mailing address poster)
Grand Prize: Mori, Nozomu [森望] (Okayama, Japan)
Volume Changes
Magazine Version

Volume Version

Explanation
Chapter 732, page 12.
Correction: Changed the Trebol Army symbol to the Diamante Army symbol.
Chapter 735, page 5.
Correction: Added Zoro's scar.
Chapter 737, page 7.
Correction: Changed the number on the Boss Class Fighting Fish.
Chapter 737, page 14.
Correction: Fixed the shape of Sugar's legs, the length of her skirt, and her left eye.

Chapter 742, page 19.
Change: Leo's final line changed from

「あァ〜〜!!!」(lit."AHHHH~~!!!")

to

「気絶したァ〜〜!!!」(lit. "SHE LOST CONSCIOUSNESS~~!!!")
Trivia
On the inside back cover of this volume, Sugar's grapes are replaced by pandaman heads.
The inside back cover of this volume is a collage of Rebecca's and Thunder Soldier's memories.
It was announced in 2015 on the SBS for Volume 78 that the Grand Prize winner for this volume's Usopp Gallery Pirates later debuted as a professional mangaka with his own one-shot being published in a magazine known as Monthly Afternoon.
References