Jurassic World: Dominion Dominates Fandom Wikis - The Loop
Play Sound
Volume 75 is titled "My Repayment".
Cover and Volume Illustration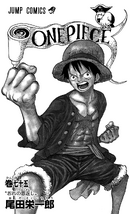 The colored cover has a fading blue background, and the author's name is written in red.
On the front, Luffy, Zoro, Trafalgar Law and Kyros are in the front center, on a star-shaped platform. The background features Pica in the center, Sabo and Koala on the left and Fujitora on the right.
Kyros is featured for the spine, and the skull on the spine is colored blueish-green. The title logo colorscheme uses the colors blue (fading from white), red, and white.
For the volume illustration on page 3, Luffy is shown posing in an angry fighting stance.
Author's Notes
Author's Notes

These days, people tend to prefer fancy terms when color-coding merchandise, like using "chocolate" over brown or "rose" over red. I like it.

Like "champagne gold" or "mint" or "wine", "ruby", "cherry", "fudge", "caramel", "natto" "rice" "miso soup" "pickled plum" "now then" "the" "snot-colored" "volume 75"

STARTING NOW-----!!
Chapters
See also the associated category: Volume 75.
SBS Notes
Number of fan-drawn SBS Headers featured: 6
Usopp Gallery Pirates
Located on pages 180 and 200-205.
Total number of fan submissions featured: 41 (+1 UGP Header and 1 mailing address poster).
Grand Prize: HARU (Nagano, Japan)
Volume Changes
Magazine Version

Volume Version

Explanation
Chapter 746, page 1.
Correction: Added Law's tattoo.
Chapter 746, page 15.
Correction: Fixed "100 million" to "200 million" (Referring to Kyros's star system bounty; "He's got only one leg! 200 million is mine~~!!")
Chapter 747, page 14.
Correction: Added Machvise's tail.
Chapter 750, page 17.
Correction: Fighting Bull's broken horn.
Chapter 751, page 10.
Correction: Fighting Bull's broken horn.
Chapter 751, page 12.
Correction: Fighting Bull's broken horn. Sunflowers are added on Luffy's shirt.
Chapter 752, page 1.
Correction: Inked in the Sea Kitten's ears.
Trivia
References