Jurassic World: Dominion Dominates Fandom Wikis - The Loop
Play Sound
Volume 77 is titled "Smile".
Cover and Volume Illustration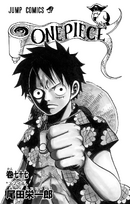 The colored cover has a black background with a vertical red section in the middle. The title logo colorscheme uses yellow-orange fading to white, solid yellow-orange, and solid white. The author's name is printed in white.
On the front, the three Donquixote executives are standing behind a laughing Donquixote Doflamingo who is sitting on his throne. Around Doflamingo's leg area, there is a pop-up section showing the other Donquixote Pirates.
Senor Pink is featured on the spine, and the skull wearing the straw hat logo at the top of the spine is colored yellow-orange.
For the volume illustration on page 3, Luffy is in his Dressrosa Arc outfit. His expression is enraged, and he holds his left fist forward.

Author's Note
Author's Notes

You know how if a figure skater or ballerina tried to add a taste of "cyclone" to their typical spins, they'll either end up flying or getting themselves buried? Well, I figured, if you tried adding a taste of "cyclone" to your asshole, your **** would spurt out, spinning like crazy, and you wouldn't even be constipated anymore.

VOLUME 77 WITH A TASTE OF CYCLONE!!!

STARTINGYURURURURURURUAAAAA...!!!
(Translator's note: Text in image says "Gyururururu". This is the sound effect for spinning.)
Chapters
See also the associated category: Volume 77.
SBS Notes
Number of fan-drawn SBS Headers featured: 6
Usopp Gallery Pirates
Located on pages 64, 82, 172, and 228-229.
Total number of fan submissions featured: 29.
Grand Prize: RinRin♪ [りんりん♪] (Kanagawa, Japan)
Volume Changes
Magazine Version

Volume Version

Explanation
Chapter 764, page 14.
Correction: "Donquijote" changed to the proper spelling, "Donquixote".
Chapter 764, page 17.
Correction: Added Corazon's missing tattoo.
Chapter 767, page 1.
Correction: Changed Cover Story numbering from 13 to 14.
Chapter 768, page 14.
Correction: Inked in Riku Doldo III's cape.
Chapter 774, page 2.
Change: Robin calls Kyros "Mr. Leader" (隊長さん) instead of "Mr. Soldier" (兵隊さん). There is also an unexplained typeset change in the bottom speech bubble.
The Color Spread of Chapter 775.
Correction: Added missing bike frame.
Trivia
The front inside cover of this volume has 2 differences compared to the outer cover: Doflamingo's face replaced by Pandaman, and the title logo replaced (with one that has the "O" as the Konohagakure symbol, a shuriken sticking out of the first "E", and the "I", or Luffy's silhouette, being replaced with a silhouette of Naruto) in celebration of the completion of the series Naruto.
Along with Volume 21, Volume 42 and Volume 87, this volume is the only one to not have Luffy, or any of the Straw Hat Pirates, on its cover.
References