Doctor Strange in The Multiverse o Madness - The Loop
Play Sound
Volume 89 is titled "Bad End Musical".
Cover and Volume Illustration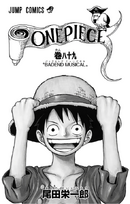 The cover is orange, the title logo is checkered lavender and periwinkle, and transparent, and the author's name is written in lavender. The cover features Luffy's Snakeman form and Katakuri trading final blows during their battle in the Mirro-World.

Author's Note
When everyone eats outside,
there's always bowl of fried chicken left.
Let's give them a name:
Sergeant Shoichi.
Just something like "Only Sergeant Shoichi left!
Who can settle this!"
For those who don't understand who he is just search it.
I'm sorry! Volume 89 begins!!
Chapters
See also the associated category: Volume 89.
SBS Notes
Volume Changes
Magazine Version

Volume Version

Explanation
Chapter 891, page 4
Correction: Flampe's position among the Charlotte Family daughters is fixed.
Chapter 891, page 8
Correction: Katakuri's bruises added.
Chapter 892, page 7
Change: 載 replaced の.
Chapter 893, page 8
Change: にー replaced 兄.
Chapter 896, page 1
Change: Hajrudin is position outside of the cover image borders.
Chapter 896, page 5
Correction: The sound effects for Pudding's tears are added.
Chapter 896, page 13
Correction: Katakuri's wounds added.
Chapter 898, page 4
Correction: Tamago's shell pattern added.
Chapter 898, page 7
Correction: Sanji's eyebrow direction fixed.
Chapter 899, page 5
Change: たと replaced 例.
Trivia
The volume's cover is the first, and so far only one, that feature an actual scene from a chapter, in this case, Chapter 895.
On Oda's Author's Note, he made a reference to Shoichi Yokoi, a World War II Japanese sergeant that remained on the battle field for nearly 28 years. A few days later, after some complaints from readers, Shonen Jump published an apology for those references.[2]
References