Doctor Strange in The Multiverse o Madness - The Loop
Play Sound
Volume 92 is titled "The Oiran Komurasaki Appears".
Cover and Volume Illustration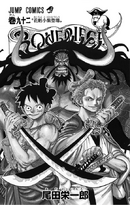 The cover is red, with a pale orange and pink gradient spectrum box in the middle. The title is written in yellow, and the author's name is written in gray. The cover illustration is split into three levels. On the top, from right to left, are Toko, Komurasaki, and Kaidou (in his dragon form). The middle displays Luffy and Kid arguing, and on the bottom are Robin, Franky, Usopp, and Zoro, being shown with the faces they made after hearing the news of Luffy's defeat and capture.

Author's Note
Author's Notes
48 brown and 100 gray colors!!

We have many brown and gray-related colors in Japan. This is because our ancestors created various colors despite the Edo Shogunate prohibiting the general public from wearing flashy kimonos.

I believe they wanted to be fashionable with more colors. I'll draw the Wano Arc with flashy colors! I'm looking forward to how the anime will handle it!! Let's start Volume 92!!
Chapters
See also the associated category: Volume 92.
SBS Notes
Volume Changes
Magazine Version

Volume Version

Explanation
Chapter 923, page 10
Correction: Added a separator to Elephant Gatling (エレファント・ガトリング).
Chapter 924, page 7
Change: 捕えた changed to 捕らえた.
Chapter 925, page 5
Correction: Pizarro's ship number corrected from Second (2番) to Fourth (4番).
Chapter 925, page 16-17
Change: Added gradient to introduction boxes.
Chapter 926, page 7
Change: Added gradient to introduction box.
Chapter 926, page 9
Change: Added gradient to introduction box and gray tone for the border.
Chapter 926, page 14
Change: Added gradient to introduction box.
Chapter 929, page 7
Correction: Fixed the mark on Franky's back.
Chapter 929, page 10
Correction: Added Tonoyasu's beard.
Chapter 929, page 18
Correction: Added Law's tattoo.
Chapter 930, page 7
Correction: Romanization fixed
References