She-Hulk Trailer Dropped - The Loop
Play Sound
Volume 94 is titled "The Warriors' Dreams".
Cover and Volume Illustration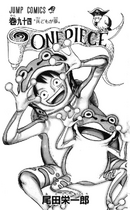 The cover is light-green fading to dark-green spectrum gradient. The title is written in a light-green, yellow, and pink spectrum gradient, and the author's name is written in yellow, and pink spectrum gradient.
The cover features Big Mom and Kaidou fighting in the background. In the foreground (in clockwise rotation) on the right side: Kozuki Momonosuke, and Raizo; in the middle center: Hyogoro, Tony Tony Chopper, and Monkey D. Luffy sitting on top of Kawamatsu's hat wielding Soto Muso; and on the left side Kikunojo and Tama.
Big Mom and Kaidou are featured in the spine.

Author's Note
Author's Notes

Apparently, snails won't travel over their own trails because they hate the sliminess of it. What gives?!!
Chapters
See also the associated category: Volume 94.
SBS Notes
Volume Changes
Magazine Version

Volume Version

Explanation
Chapter 943, page 7
Change: Queen's shoulder.
Chapter 943, page 13
Change: Kimonos colors.
Chapter 943, page 16
Change: Scope marks.
Chapter 944, page 2
Change: Hand-written font.
Chapter 945, page 1
Correction: Hiyori Kimono pattern.
Chapter 946, page 7
Change: 俺たち changed to おれ達.
Chapter 952, cover page
Correction: Bege's face color.
Chapter 952, page 13
Change: Background of sound effect.
Chapter 953, page 11
Correction: Arm tremors added.
Trivia
In the VIZ publication of volume 94 digital edition, there are 15 pages in Chapter 944 but in Japanese version there are 17 pages. The Viz version doesn't have the pages where Luffy was cheering the other Straw Hats from Udon and Babanuki informing Queen about the arrival of Kamazo and Eustass Kid. The print version has the two pages intact.
References