She-Hulk Trailer Dropped - The Loop
Play Sound
Volume 96 is titled "I am Oden, and I Was Born to Boil".
Cover and Volume Illustration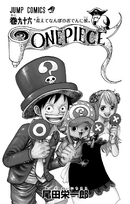 The cover is orange spectrum gradient. The title is written in a mint and pink, and the author's name is written in blue and orange.
The cover features from top to bottom in a clockwise rotation; Whitebeard, holding his Murakumogiri, Jozu, Marshall D. Teach, Kozuki Oden is in the center holding Enma and Ame no Habakiri, Shanks, Buggy, Gol D. Roger, Silvers Rayleigh, and Marco, all of whom appear as they were over 25 years ago. Monkey D. Luffy is standing in the foreground holding Nidai Kitetsu.
The spine features Whitebeard, Oden and Roger.
Author's Note
Author's Notes

96 volumes!!

When I turned around, it becomes 69 volumes!!

...Or so I thought, but turning 96 around still gives us 96!!

Even if I tried to turn it around, turning back isn't an option anymore, as the Volume 100 party approaches!!

Volume 96, beginnn!!
Chapters
See also the associated category: Volume 96.
SBS Notes
Volume Changes
Magazine Version

Volume Version

Explanation
Chapter 965, page 12
Change: The Hebi Hebi no Mi, Model: Yamata no Orochi now has swirls like other Devil Fruits.
Chapter 965, page 17
Correction: Added Rayleigh's scar.
Chapter 969, page 4
Change: Added grandient to Semimaru and Higurashi's introduction boxes.
Chapter 969, page 6
Correction: Higurashi keeps the candles when she transforms into Sukiyaki.
References