Obi-Wan Finale - The Loop
Play Sound
Ahoy! This here is the 52nd Featured Article.

"Wetton" has been featured, meaning it was chosen as an article of interest.
Wetton is the main antagonist of the anime-only Ruluka Island Arc. He was captain of the Wetton Pirates before becoming the mayor of Ruluka Island.[1]
Appearance
Wetton is an old, wrinkled man with red hair and beard, arranged into a so-called "chin curtain" (hair and beard meet via whiskers, but facial hair above the chin is shaved off). He apparently has been using this style for at least 50 years.[1]
When he was younger, he had blue tattoos on his front, with a common cape, and wore a nose ring on his left nostril that he has since taken out.[5] As of now, he wears a purple uniform similar to those of all his soldiers and his relatives.
He walks with a cane that has a handle resembling a red bull's head - similar to the front-piece of his former pirate ship, the Tarielishin.
Gallery
A close-up of Wetton's face.
Young Wetton, during the sack of Ruluka.
A close-up of Wetton's face when he was young.
Wetton's bounty poster as shown in
Movie 9
.
Personality
Wetton yearns for peace and security, retiring from piracy in order to settle down as a mayor. However, he still maintains his ruthlessness as a pirate, as he tyrannically conquered the island, though in a more comedic way than true evil, as he forced the citizens to pay horrendous and silly taxes such as paying for eating food that has already been paid for.
Abilities and Powers
Political Powers
As mayor of Ruluka, Wetton had control over the island's laws, tyrannically enforced by his Ruluka Government, in which he was able to create ridiculous taxation such as paying for eating food that has already been paid for. With his arrest for piracy, Wetton lost his privileges.
Weapons
While still a young, active pirate (at the time of his burning down Ruluka), he used to be a person with considerable strength, fighting with a huge and ornately decorated single-edge axe.[5] At his current age, he wields a much smaller axe without much force behind his swings.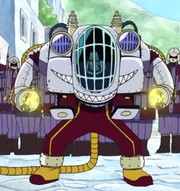 Currently, due to his advanced age and declining strength, his primary method of fighting is using his Flame Suit (火焔スーツ, Kaen Sūtsu?), a mecha suit armed with two flamethrowers attached to the mechanical arms. The suit has fuel pumped into it by a team similar to the Dynamo Team. He has one named attack while using this suit.
History
Past
He is a former pirate, who burned down Ruluka and then became its mayor, because he yearned for safety and power. He later funds Henzo's research, by putting up silly and exorbitant taxes, to complete the construction of the Rainbow Tower, so as to get access to the Rainbow Mist's treasures.
Ruluka Island Arc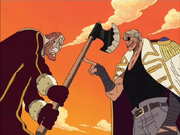 He attempts to fight Luffy in a flame suit in the Rainbow Mist, but is swiftly and easily overpowered. With the protective seal on his suit destroyed, Wetton panics, throws a few bombs into the tower (now a horizontal passport into the Rainbow Mist) and runs away. He is confronted by Sanji, finished off by a mature Rapanui Pasqua, and then arrested.

Trivia
References
Active

5,000,000,000 to 1,000,000,000

:
Kaidou ?  •  Charlotte Linlin ?  •  Shanks  •  Monkey D. Luffy  •  Trafalgar Law  •  Eustass Kid  •  Marshall D. Teach  •  King  •  Marco  •  Queen  •  Charlotte Katakuri

1,000,000,000 to 500,000,000

:
Jack  •  Charlotte Smoothie  •  Charlotte Cracker  •  Charlotte Perospero  •  Sabo  •  Charlotte Snack  •  Little Oars Jr.  •  Who's-Who  •  Chinjao

500,000,000 to 100,000,000

:
Edward Weevil  •  Black Maria  •  Sasaki  •  Belo Betty  •  Jinbe  •  Tamago  •  Karasu  •  Ulti  •  Scratchmen Apoo  •  Capone Bege  •  Donquixote Doflamingo  •  Pekoms  •  Cavendish  •  Sanji  •  Basil Hawkins ?  •  Gecko Moria  •  Roronoa Zoro  •  Lindbergh  •  Charlotte Oven  •  Charlotte Daifuku  •  Caesar Clown  •  Bartholomew Kuma  •  Morley  •  Page One  •  X Drake  •  Squard  •  Caribou  •  Sai  •  Killer  •  Usopp  •  Bartolomeo  •  Bellamy  •  Coribou  •  Orlumbus  •  Jewelry Bonney  •  Nico Robin  •  Charlotte Mont-d'Or  •  Urouge  •  Bobbin

100,000,000 to 50,000,000

:
Dorry  •  Brogy  •  Kinoko  •  Trebol  •  Diamante  •  Pica  •  Vito  •  Rockstar  •  Franky  •  Albion  •  Gotti  •  Lip Doughty  •  Brook  •  Chadros Higelyges  •  Boa Hancock  •  Daz Bonez  •  Raccoon  •  Gyro  •  Doc Q  •  Suleiman  •  Gambia  •  Nami  •  Van Augur  •  Lao G  •  Devil Dias  •  Senor Pink  •  Kelly Funk  •  Peachbeard

50,000,000 to 10,000,000

:
Laffitte  •  Boa Sandersonia  •  Boa Marigold  •  Sarquiss  •  Shoujou  •  Mikazuki  •  Bobby Funk  •  Zala  •  Bentham  •  Gladius  •  Marianne  •  Mont Blanc Cricket  •  Galdino  •  Foxy  •  Charlotte Lola  •  Demaro Black  •  Masira  •  Arlong  •  Jesus Burgess  •  Yeti Cool Brothers  •  Krieg  •  Lacuba  •  Kuro  •  Buggy  •  Dellinger  •  Bluejam  •  Drophy  •  Gin  •  Machvise
10,000,000
and under:
Mr. 5  •  Wellington  •  Kuroobi  •  Hatchan  •  Curly Dadan  •  Mikita  •  Sham & Buchi  •  Chew  •  Alvida  •  Porchemy  •  Mr. 4  •  Bepo  •  Tony Tony Chopper

Unknown reward

:
Benn Beckman  •  Lucky Roux  •  Yasopp  •  Zeff  •  Dracule Mihawk  •  Crocodile *  •  Monkey D. Dragon  •  Crocus  •  Yorki  •  Jozu  •  Vista  •  Silvers Rayleigh  •  Emporio Ivankov  •  Inazuma  •  Shiryu  •  Sanjuan Wolf  •  Vasco Shot  •  Catarina Devon  •  Avalo Pizarro  •  Aladine  •  Charlotte Amande
Non-canon

1,000,000,000 to 100,000,000

:
Bounty  •  Prize  •  Byrnndi World ?  •  Panz Fry  •  Chameleone  •  Lambor Bukini  •  Puggy  •  Dopp

100,000,000 to 10,000,000

:
Puzzle  •  Gasparde  •  Tambu  •  Bobrad  •  Woonan †  •  Needless  •  Olive  •  Willy  •  Bigalo  •  Battler  •  Wetton  •  Bear King
10,000,000
and under:
Eldoraggo  •  Dick  •  Pin Joker  •  Golass  •  Honey Queen  •  Skunk One  •  Gally  •  Billy  •  Heaby  •  Hotdog  •  Spiel  •  Pandaman  •  Boo Jack  •  Billy  •  A A A  •  Wild Joe  •  D.R.  •  Hitokui  •  Henna Oyag  •  Koba K  •  Usanksai  •  Sard  •  Tohenbok  •  Tacobo

Unknown reward

:
Patrick Redfield  •  Mobu Head  •  Red Arrows Pirates †  •  Dareda  •  Dontacos

Others

:
Gill Bastar  •  Mikio Itoo