Doctor Strange in The Multiverse o Madness - The Loop
Play Sound
O-Yame[2] is a woman who lives in Okobore Town of Kuri with her two sons, Kinbo and an unnamed infant.[1]
Appearance
Yame is an average-sized woman with a round nose and brown hair tied in a bun. She wears a light blue kimono with light green cloud patterns and pink patches, as well as a purple obi with white dots and a red string. She carries her infant son on her back.[1]
Personality
Yame believes that Wano Country boys should not cry or complain no matter the circumstances.[1]
History
Four Emperors Saga
Wano Country Arc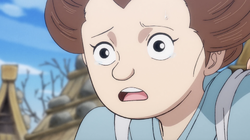 Yame tried to calm down her son Kinbo who was crying from hunger by telling him that Wano Country boys do not whine.[1] When Zoro, Kiku and Law arrived with the Treasure Ship of Provisions, Yame and her family were able to eat as much as they wanted.[3]

Trivia
Her name is likely a pun on おやめ (

o yame

?

, "stop that"), referencing her line to Kinbo.
References
Abilities

Devil Fruit Based

:
Artificial Devil Fruit  •  Fuku Fuku no Mi  •  Fude Fude no Mi (Ryunosuke †  •  Kazenbo)  •  SMILE  •  Zou Zou no Mi, Model: Mammoth  •  Kibi Kibi no Mi  •  Inu Inu no Mi, Model: Tanuki  •  Wara Wara no Mi  •  Uo Uo no Mi, Model: Seiryu  •  Juku Juku no Mi  •  Maki Maki no Mi  •  Ryu Ryu no Mi, Model: Allosaurus  •  Ryu Ryu no Mi, Model: Spinosaurus  •  Ryu Ryu no Mi, Model: Pteranodon  •  Hito Hito no Mi, Model: Onyudo  •  Ryu Ryu no Mi, Model: Brachiosaurus  •  Oto Oto no Mi  •  Ryu Ryu no Mi, Model: Pachycephalosaurus  •  Ryu Ryu no Mi, Model: Triceratops  •  Kumo Kumo no Mi, Model: Rosamygale Grauvogeli  •  Neko Neko no Mi, Model: Saber Tiger  •  Hebi Hebi no Mi, Model: Yamata no Orochi  •  Inu Inu no Mi, Model: Okuchi no Makami  •  Toki Toki no Mi †  •  Mane Mane no Mi †  •  Bari Bari no Mi †  •  Tori Tori no Mi, Model: Nue ≠

Fighting Style Based

:
Haki (Ryuo)  •  Oden Two Sword Style  •  Foxfire Style  •  Ninjutsu  •  Kappa Style

Weapons

:
Shusui  •  Kitetsu (Shodai Kitetsu ?  •  Nidai Kitetsu  •  Sandai Kitetsu ‡)  •  Sukesan and Kakusan  •  Tsuji Shibai  •  Soto Muso  •  Hassaikai  •  Takeru  •  Ame no Habakiri  •  Karakuri Rasento  •  Enma ‡