For other uses, see Zou (Disambiguation).
The Zou Zou no Mi, Model: Mammoth[2] is an Ancient Zoan-type Devil Fruit,[3] which allows the user to transform into a mammoth hybrid and full mammoth at will. It was eaten by Jack.[2]
Etymology
"Zou" (

象

Zō

?

) means "elephant".
Strengths and Weaknesses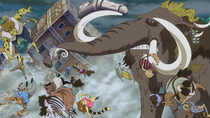 The full mammoth form granted by this fruit gives the user a massive frame, significantly increasing Jack's already abnormal size. Jack can level buildings with a single swing of his trunk[4] and leave imprints of his feet on the ground just by stepping on it.[5] The user is also granted huge curved tusks.
However, the user is extremely heavy and slow in this form, leaving them unable to dodge high-speed attacks.[6] Otherwise, the user is affected by the standard Devil Fruit weaknesses.

Usage
Jack has used this fruit to improve his combat capabilities; he can cause massive destruction with a single attack and bulldoze nearly anything that gets in his way by charging forward. So far, his only displayed attack has been swinging his trunk to damage his opponents and surroundings.[4]
Due to being a fish-man,[2] Jack can remain conscious and breathe underwater for an indefinite amount of time, although remaining unable to move in the meanwhile.[7]
Trivia
References
External Links
Mammoth – Wikipedia article about mammoths.
Devil Fruits
Zoan

Canon (Natural)

:
Ushi Ushi no Mi, Model: Bison  •  Hito Hito no Mi  •  Tori Tori no Mi, Model: Falcon  •  Inu Inu no Mi, Model: Dachshund  •  Mogu Mogu no Mi  •  Inu Inu no Mi, Model: Jackal  •  Uma Uma no Mi  •  Neko Neko no Mi, Model: Leopard  •  Zou Zou no Mi  •  Inu Inu no Mi, Model: Wolf  •  Ushi Ushi no Mi, Model: Giraffe  •  Ryu Ryu no Mi, Model: Allosaurus  •  Hebi Hebi no Mi, Model: King Cobra  •  Hebi Hebi no Mi, Model: Anaconda  •  Tori Tori no Mi, Model: Phoenix  •  Hito Hito no Mi, Model: Daibutsu  •  Kame Kame no Mi  •  Sara Sara no Mi, Model: Axolotl  •  Mushi Mushi no Mi, Model: Kabutomushi  •  Mushi Mushi no Mi, Model: Suzumebachi  •  Zou Zou no Mi, Model: Mammoth  •  Tori Tori no Mi, Model: Albatross  •  Inu Inu no Mi, Model: Tanuki  •  Uo Uo no Mi, Model: Seiryu  •  Inu Inu no Mi, Model: Kyubi no Kitsune  •  Hebi Hebi no Mi, Model: Yamata no Orochi  •  Ryu Ryu no Mi, Model: Spinosaurus  •  Ryu Ryu no Mi, Model: Pteranodon  •  Ryu Ryu no Mi, Model: Brachiosaurus  •  Ryu Ryu no Mi, Model: Pachycephalosaurus  •  Ryu Ryu no Mi, Model: Triceratops  •  Kumo Kumo no Mi, Model: Rosamygale Grauvogeli  •  Neko Neko no Mi, Model: Saber Tiger

Canon (Artificial)

:
Artificial Devil Fruit (SMILE)

Non-Canon

:
Tori Tori no Mi, Model: Eagle  •  Inu Inu no Mi, Model: Bake-danuki  •  Batto Batto no Mi, Model: Vampire  •  Tori Tori no Mi, Model: Nue
Beasts Pirates

Governor-General

:
Kaido

All-Stars

:
King  •  Queen  •  Jack

Tobiroppo

:
X Drake ‡  •  Page One  •  Ulti  •  Who's-Who  •  Black Maria  •  Sasaki

Shinuchi

:
Sheepshead *  •  Ginrummy *  •  Basil Hawkins  •  Holdem  •  Speed  •  Dobon  •  Babanuki  •  Daifugo  •  Solitaire  •  Bao Huang  •  Briscola  •  Fourtricks  •  Hamlet  •  Mizerka  •  Poker

Gifters

:
Batman  •  Gazelleman  •  Mouseman  •  Snakeman  •  Rabbitman  •  Sarahebi  •  Alpacaman  •  Madilloman  •  Dachoman  •  Caimanlady  •  Trio the Grip ≠  •  Bearman ≠

Numbers

:
Jaki  •  Goki  •  Nangi  •  Hatcha  •  Juki

Samurai

:
Fukurokuju  •  Hotei  •  Daikoku  •  Raijin  •  Fujin  •  Hanzo  •  Chome  •  Jigoku Benten  •  Bishamon  •  Yazaemon  •  Kazekage  •  Sarutobi

Other Members

:
Scotch  •  Scratchmen Apoo  •  Massui  •  Pudos  •  Hihimaru ‡  •  Kamijiro  •  Gorishiro ‡

Subordinate Crews

:
Drake Pirates *  •  On Air Pirates  •  Hawkins Pirates

Allies and Affiliates

:
Big Mom Pirates  •  Yamato ‡  •  Kurozumi Family (Kurozumi Orochi) ‡  •  Donquixote Pirates (Donquixote Doflamingo  •  Caesar Clown ‡) ‡  •  Bounties Pirates ≠

Ships

:
Mammoth †  •  Liberal Hind  •  Stay Tune  •  Grudge Dolph

Abilities

Devil Fruit Based

:
Uo Uo no Mi, Model: Seiryu  •  Ryu Ryu no Mi, Model: Pteranodon  •  Ryu Ryu no Mi, Model: Brachiosaurus  •  Zou Zou no Mi, Model: Mammoth  •  Ryu Ryu no Mi, Model: Allosaurus ‡  •  Ryu Ryu no Mi, Model: Spinosaurus  •  Ryu Ryu no Mi, Model: Pachycephalosaurus  •  Ryu Ryu no Mi, Model: Triceratops  •  Kumo Kumo no Mi, Model: Rosamygale Grauvogeli  •  Neko Neko no Mi, Model: Saber Tiger  •  Wara Wara no Mi  •  SMILE

Fighting Style Based

:
Haki  •  Electro  •  Rokushiki  •  Alpaca Kenpo  •  Ninjutsu

Weapons Based

:
Karakuri Rasento

Support Based

:
Koro  •  Seastone  •  Excite Bullets (Mummy  •  Ice Oni)  •  Excite Shot
Wano Country
Abilities

Devil Fruit Based

:
Toki Toki no Mi †  •  Artificial Devil Fruit  •  Fuku Fuku no Mi  •  Fude Fude no Mi  •  SMILE  •  Zou Zou no Mi, Model: Mammoth  •  Kibi Kibi no Mi  •  Inu Inu no Mi, Model: Tanuki  •  Wara Wara no Mi  •  Uo Uo no Mi, Model: Seiryu  •  Juku Juku no Mi  •  Maki Maki no Mi  •  Ryu Ryu no Mi, Model: Allosaurus  •  Ryu Ryu no Mi, Model: Spinosaurus  •  Ryu Ryu no Mi, Model: Pteranodon  •  Ryu Ryu no Mi, Model: Brachiosaurus  •  Ryu Ryu no Mi, Model: Pachycephalosaurus  •  Ryu Ryu no Mi, Model: Triceratops  •  Kumo Kumo no Mi, Model: Rosamygale Grauvogeli  •  Neko Neko no Mi, Model: Saber Tiger  •  Hebi Hebi no Mi, Model: Yamata no Orochi  •  Mane Mane no Mi †  •  Bari Bari no Mi †  •  Tori Tori no Mi, Model: Nue ≠

Fighting Style Based

:
Haki (Ryuo)  •  Oden Nitoryu  •  Kitsunebi-ryu  •  Ninjutsu  •  Kappa-ryu

Weapons

:
Shusui  •  Kitetsu (Shodai Kitetsu *  •  Nidai Kitetsu  •  Sandai Kitetsu ‡)  •  Sukesan and Kakusan  •  Tsuji Shibai  •  Soto Muso  •  Enma ‡  •  Ame no Habakiri