That's not my name! Get it right!

This page's name is conjectural, as no official name has yet to be released, and is only used for a place to put information. Please change it as soon as the official name is out.
For other models of this fruit, see Zou Zou no Mi.
For other uses, see Zou (Disambiguation).
The Zou Zou no Mi, Model: Mammoth is an Ancient Zoan-type Devil Fruit,[2] which allows the user to transform into a mammoth hybrid and full mammoth at will. It was eaten by Jack. According to Nekomamushi, it is the ancient form of the Zou Zou no Mi.
Etymology
Edit
"Zou" (

象

Zō

?

) means "elephant".
Strengths and Weaknesses
Edit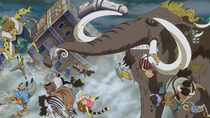 The full mammoth form granted by this fruit gives the user a massive frame, significantly increasing Jack's already abnormal size. Jack can level buildings with a single swing of his trunk[3] and leave imprints of his feet on the ground just by stepping on it.[4]
However, the user is extremely heavy and slow in this form, leaving them unable to dodge high-speed attacks.[5] Otherwise, the user is affected by the standard Devil Fruit weaknesses, though Jack can apparently remain conscious underwater for an extended period of time without any signs of strain other than being rendered immobile.[6]

Jack has used this fruit to improve his combat capabilities; he can cause massive destruction with a single attack and bulldoze nearly anything that gets in his way by charging forward. So far, his only displayed attack has been swinging his trunk to damage his opponents and surroundings.[3]
References
Edit
Devil Fruits
Zoan

Canon (Natural)

:
Ushi Ushi no Mi, Model: Bison  •  Hito Hito no Mi  •  Tori Tori no Mi, Model: Falcon  •  Inu Inu no Mi, Model: Dachshund  •  Mogu Mogu no Mi  •  Inu Inu no Mi, Model: Jackal  •  Uma Uma no Mi  •  Neko Neko no Mi, Model: Leopard  •  Zou Zou no Mi  •  Inu Inu no Mi, Model: Wolf  •  Ushi Ushi no Mi, Model: Giraffe  •  Ryu Ryu no Mi, Model: Allosaurus  •  Hebi Hebi no Mi, Model: Anaconda  •  Hebi Hebi no Mi, Model: King Cobra  •  Tori Tori no Mi, Model: Phoenix  •  Hito Hito no Mi, Model: Daibutsu  •  Kame Kame no Mi  •  Sara Sara no Mi, Model: Axolotl  •  Mushi Mushi no Mi, Model: Kabutomushi  •  Mushi Mushi no Mi, Model: Suzumebachi  •  Zou Zou no Mi, Model: Mammoth  •  Inu Inu no Mi, Model: Kyubi no Kitsune  •  Ryu Ryu no Mi, Model: Spinosaurus  •  Ryu Ryu no Mi, Model: Pteranodon  •  Hebi Hebi no Mi, Model: Yamata no Orochi

Canon (Artificial)

:
Artificial Devil Fruit  •  SMILE

Non-Canon Zoan

:
Tori Tori no Mi, Model: Eagle  •  Inu Inu no Mi, Model: Bake-danuki  •  Batto Batto no Mi, Model: Vampire  •  Tori Tori no Mi, Model: Nue